HOLMBY NEWS



January 26, 2018
From the Holmby Westwood Property Owners Association, serving the Holmby Westwood community since 1960.
1.  LAPD Crime Report
2.  Security Suggestions
3.  Street Repair Requests
4.  Speeding Through Stop Signs
5.  Lawn Bowling at Holmby Park
6.  New Dog Park at Westwood Rec. Center
7.  Metro Purple Line Extension
8.  Upcoming Community Events
9.  HWPOA Communication and Ad Policy
10.  Resident Ads
11.  HWPOA Contact Information
1.  LAPD CRIME REPORT

BURGLARY FROM VEHICLE
Incident #: 180804867
400 BLOCK DALEHURST AV  |  1/20/2018 @ 5:00 PM
BURGLARY FROM VEHICLE
Incident #: 180804930
900 BLOCK MALCOLM AV  |  1/21/2018 @ 5:00 PM
THEFT FROM VEHICLE – PETTY ($950 & under)
Incident #: 180804922
200 BLOCK LORING AV  |  1/20/2018 @ 8:30 PM
THEFT FROM VEHICLE – GRAND ($950.01 & over)
Incident #: 180804981
500 BLOCK DALEHURST AV  |  1/22/2018 @ 6:00 AM
You may access crime mapping at www.crimemapping.com to review recent crimes in your area. Sign up to receive alerts when crime is reported in your neighborhood.
E-Policing: http://www.lapdonline.org/e_policing
EMERGENCY: 911
NON-EMERGENCY: 1-877-275-5273
All other City Services: 311
Christopher Ragsdale, Senior Lead Officer
West Los Angeles Community Police Station
Office: 310-444-0741
Email: 26690@lapd.lacity.org
Website: www.lapdonline.org
2.  SECURITY SUGGESTIONS

Due to recent criminal activity in Holmby Westwood:
Burglaries during all hours of the day and night (including a number of burglaries when residents were at home & 1 attempted burglary when the resident was home)
Car break-ins (even behind gates)
Car thefts
Package thefts
Here are some suggestions:
Turn your alarm on even when you are at home
Do not confront a burglar in your home – go to a secure room where you can lock yourself inside and call 911
Park your cars in your garage
Consider installing flood light motion cameras all around the exterior of your home
Consider installing a camera door bell, such as Ring.com. There are a number of similar companies from which to choose. Do your own due diligence.
Place camera security signs in your windows
Install motion detectors and glass break alarms in strategic locations inside your home.
3.  STREET REPAIR REQUESTS
The Bureau of Street Services has scheduled a Small Asphalt Repairs (SAR) truck (which is described as 1 small asphalt repair truck, consisting of 2 workers and asphalt), for the Westwood Neighborhood Council area, to perform small asphalt repairs on February 28, 2018.
The type of repairs that can be addressed with this program include the following:
– Potholes and pop outs
– Skin patching of eroded or cracked areas
– Some repairs on concrete streets
The Westwood Neighborhood Council has asked us to submit suggested locations in our neighborhood for small street repairs. The city will only send the SAR truck to a total of 15 locations in the entire Westwood Neighborhood Council area, so Holmby Westwood will only see a handful of repairs.
If you are aware of any spots in our neighborhood that would be particularly good candidates for this program, please send requests to Dana at hwpoa@aol.com no later than Tuesday, January 30.  Please only send street repair requests, not sidewalks or curbs.
4.  SPEEDING THROUGH STOP SIGNS

A homeowner reported that last Saturday morning around 9:05 AM, a black convertible Bentley, driven by a young man in his late teens or early 20s, endangered the lives of several pedestrians, including a baby in a stroller.  The driver was headed east on Wyton at Loring and sped straight through the intersection without stopping at the stop sign while several pedestrians were just steps away.
Please SLOW DOWN and obey all stop signs.  Let's keep our neighborhood safe!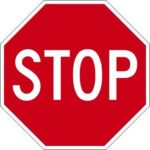 5.  LAWN BOWLING AT HOLMBY PARK

You are invited to learn how to bowl at the Holmby Park Lawn Bowling Club!  This invitation is good for any Tuesday, Thursday and Saturday – see flyer for details.  For more information, please visit: www.losangeleslawnbowling.com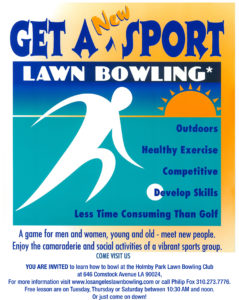 6.  NEW DOG PARK AT WESTWOOD REC. CENTER

There is now a dogs off the leash Dog Park at the Westwood Recreation Center. It's the safe and legal way to let your dog off the their leash to play with other dogs. The UCLA Daily Bruin has created a video that shows the new dog-friendly venue:
Video: Dog Park at Westwood Rec. Center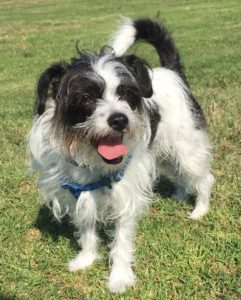 7.  METRO PURPLE LINE EXTENSION

The long-awaited Metro Purple Line Subway Extension is now under construction.
One of Metro's priority projects, the Purple Line Extension is a critically important rail project that will provide a high-capacity, high-speed and, dependable alternative for commuters to travel between downtown Los Angeles, the Miracle Mile, Beverly Hills and Westwood, where stations will be near UCLA and the VA Hospital.  Travel time between downtown Los Angeles and Westwood is expected to be about 25 minutes.
The project is being built in three sections. The first section between Wilshire/Western and Wilshire/La Cienega is now under construction and is scheduled for completion in 2023.
Section 2 of the Purple Line Extension Project will extend the subway to downtown Beverly Hills and Century City. Section 2 is currently in pre-construction and will begin construction later this year. Sections 1 and 2 are funded primarily by Measure R — the sales tax Los Angeles County voters approved in 2008 — and with a pair of federal grants.
Section 3 will then extend the project to two stations in Westwood. The passage of the Measure M sales tax ballot measure by county voters in 2016 will allow this section to be accelerated. Pre-construction activities on this section will begin in Spring 2018. Metro is currently working to secure the federal funds for Section 3.
Learn more and sign up to receive construction updates, by visiting: www.metro.net/projects/westside
8.  UPCOMING COMMUNITY EVENTS

Museums Free For All Day – Sunday, January 28, 2018. Dozens of museums—presenting art, cultural heritage, natural history, and science—will open their doors and invite visitors to attend their museums free of charge.   This offer is for general museum admission only and does not apply to specially ticketed exhibitions. Regular parking fees apply at each museum. Consult individual museum websites for hours, directions, and other visitor information.
UCLA Film & Television Archive – UCLA Film & Television Archive is the second largest moving image archive in the United States after the Library of Congress, and the world's largest university-based media archive, committed to the collection, restoration and exhibition of moving images.  The Archive's public programs can be seen at the Billy Wilder Theater in Westwood Village.
Upcoming programming includes Working Girls: America's Career Women on Screen
For a list of programs and upcoming events, please click here: https://www.cinema.ucla.edu/events

FREE Concert Series @ Westwood Library – Sunday, February 4 , 2018 at 2:30 PM at Westwood Library (1246 Glendon Ave.). Join us for the first concert in the 2018 season of our popular concert series. We'll be upstairs in the library on a Sunday afternoon when the library is not open for regular business.
We're fortunate to be able to welcome 8 BRAZILIAN CELLISTS for this fabulous concert of catchy, rhythmic Latin American music. Don't miss it!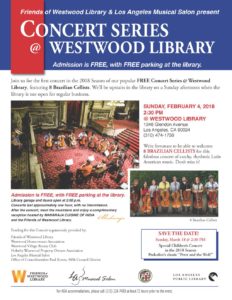 Admission is FREE, with FREE parking at the library. Library garage and doors open at 2:00 p.m. Concerts last approximately one hour, with no intermission.
After the concert, meet the musicians and enjoy a complimentary reception hosted by Westwood restaurant MAHARAJA CUISINE OF INDIA and the Friends of Westwood Library.
Service Academy Day – Saturday, February 10, 2018, 1:00-4:00 pm.  The office of Congressman Ted Lieu is pleased to announce the Third Annual Bi-Partisan, Multi-District Service Academy Day.  We invite you to listen to speakers from the United States Air Force Academy, United States Military Academy, United States Naval Academy, United States Coast Guard Academy, United States Merchant Marine Academy, parents, and current attendees at each of the Service Academies.
In addition to a wonderful speaking program, representatives from multiple Southern California Congressional Offices will be available to answer all of your academy related questions!
Los Angeles Air Force Base
Gordon Conference Center
400 North Douglas Street
El Segundo, CA 90245
Students 6th-11th grade, parents and educators are welcome!  Because of the restricted access to the base, you will need to RSVP no later than January 31, 2018.  RSVP – Click Here
9.  HWPOA COMMUNICATION AND AD POLICY
Please direct all comments, questions or issues regarding the Holmby News to hwpoa@aol.com.
Ads for plumbers, housekeepers, garage sales, etc. will be posted in the weekly News. Emergency situations such as coyote sightings, lost and found pets, traffic alerts and similar situations will continue to be published during the week as received.
When placing an ad, please send to hwpoa@aol.com for the Holmby News moderator to review.  Responses to ads should be directed to the ad placer, not to HWPOA.
10.  RESIDENT ADS
VIDEO DOORBELL INSTALLATION – RECOMMENDATION
If you decide to install a Ring.com doorbell, Hello Tech will send a technician to install your equipment. Some are better than others when installing such equipment in older homes with lath and plaster walls. Residents may need to buy WIFI mesh extenders to boost their WIFI so cameras can send a signal to cell phones. Hello Tech's technician, Barkev Tashchyan, is very knowledgeable and creative in installing equipment in older homes. You may reach him directly at 323-251-0693.
Susan Reuben
susanjreuben@yahoo.com
11.  HWPOA CONTACT INFORMATION
HOLMBY WESTWOOD PROPERTY OWNERS ASSOCIATION, INC.
P.O. Box 49180
Los Angeles, CA 90049
310-470-1785
Email: hwpoa@aol.com
Web site: www.holmbywestwoodpoa.org
Pay Membership Dues: https://squareup.com/store/hwpoa

You Are Invited . . .
To attend our monthly Board Meetings*
NEXT MEETING – FEBRUARY 13

To let us know your concerns about our community and your ideas about how we might work to improve it
To become involved in our Association.
*Board Meetings are usually held the second Tuesday of each month at 8:00 pm at Belmont Village (10475 Wilshire Blvd.).  Please confirm prior to attending.