HOLMBY NEWS



December 15, 2017

From the Holmby Westwood Property Owners Association, serving the Holmby Westwood community since 1960.
1.  LAPD Crime Report
2.  Westfield Century City – Sold
3.  Westwood Rec. Dog Park – Grand Opening
4.  Photos with Santa at Westwood Farmers' Market
5.  Give Wisely this Holiday Season
6.  My LA 311 – City of L.A. Information & Services
7.  UCLA E-Waste Disposal Service
8.  HWPOA Contact Information
1.  LAPD CRIME REPORT

THEFT – PETTY (plain theft-petty) ($950 & under)
Incident #: 170819622
800 BLOCK DEVON AV  |  12/11/2017 @ 6:45 PM
VEHICLE, STOLEN
Incident #: 170819621
10500 BLOCK LINDBROOK DR  |  12/9/2017 @ 4:30 AM
You may access crime mapping at www.crimemapping.com to review recent crimes in your area. Sign up to receive alerts when crime is reported in your neighborhood.
E-Policing: http://www.lapdonline.org/e_policing
EMERGENCY: 911
NON-EMERGENCY: 1-877-275-5273
All other City Services: 311
Christopher Ragsdale, Senior Lead Officer
West Los Angeles Community Police Station
Office: 310-444-0741
Email: 26690@lapd.lacity.org
Website: www.lapdonline.org
2.  WESTFIELD CENTURY CITY – SOLD

From the So Cal Patch:
Westfield Century City Sold To French Company In $16 Billion Deal
Westfield Corp., which operates malls in the Los Angeles area, around the nation and in Britain, is being sold to French commercial real estate giant Unibail-Rodamco in a $16 billion deal, the two companies announced Tuesday.
The cash-and-stock deal values shares of Australia-based Westfield at $7.55 a share, an 18 percent premium over Monday's closing price, the Los Angeles Times reported.
Westfield's 16 California locations include its Century City shopping center, which recently completed a $1 billion makeover.
For the complete story, please click here:
Westfield Century City – Sold
3.  WESTWOOD REC. DOG PARK – GRAND OPENING

Save the Date:
On Monday, December 18th at 2:00 pm, Councilmember Koretz and the Department of Recreation and Parks hope you and your canine companion will join them at the grand opening of the Westwood Recreation Center Dog Park located at 1350 Sepulveda Blvd. (on Veteran Ave. side of the park near the intersection of Veteran Ave. & Wilkins Ave.)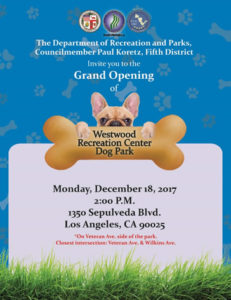 4.  PHOTOS WITH SANTA AT WESTWOOD FARMERS' MARKET

Join the fun on Thursday, December 21st at the Westwood Village Farmers' Market.  From free photo ops with Santa to holiday crafts, celebrate the holidays at the Westwood Village Farmers' Market!
On December 21st bring your family, friends and co-workers to the Westwood Village Farmers' Market for free Santa photos.
Photos with Santa
Thursday, December 21st
2:00 p.m. – 4:00 p.m.
The Westwood Village Farmers' Market is open every Thursday from noon to 6:00 p.m.
5.  GIVE WISELY THIS HOLIDAY SEASON

During the holiday season, many Angelenos traditionally donate money and goods for charitable causes around the world. The charities include their favorites as well as start-up charities created in response to crises. This generosity, however, produces a spike in solicitations.
Angelenos can arm themselves with methods to distinguish the honest and effective charities from the frauds and ineffective charities. The Charitable Services Section (CSS) of the Los Angeles Police Commission offers assistance and advice for giving wisely to charities.
For the complete advisory, please click here:
LAPD: Give Wisely this Holiday Season
6.  MY LA 311 – CITY OF L.A. INFORMATION & SERVICES

MyLA311 links Angelenos with the services and information they need to enjoy their city, beautify their community and stay connected with their local government.
Website:  https://myla311.lacity.org/
Also available as a mobile app – check your webstore
The 'Create Service Request' feature allows you to quickly and easily request the City's most popular services, including graffiti removal, pothole repair, and bulky-item pickup.
You can keep up to date with the latest City Hall News by browsing through our Facebook, Twitter and YouTube feeds.
No more stamps and envelopes needed! MyLA311 also allows you to pay your Los Angeles Water and Power Bill right from your mobile device.
Looking for the nearest park? Want to cool off on a hot day? Need to return a library book? The 'Find City Info' feature conveniently maps the closest parks, libraries, fire and police stations, golf courses, public pools, tennis courts, golf courses, parking lots, and more.
7.  UCLA E-WASTE DISPOSAL SERVICE

UCLA has a FREE e-waste disposal service on Saturdays, so that means you don't have to leave your old electronics, paint, batteries, etc. . . on the sidewalk (or in the trash).  You can simply take it to them and they DISPOSE of or RECYCLE them safely and in an environmentally friendly manner.
E-waste collection is only on Saturdays, but you can take the following materials on Thursday-Saturday:
Paint  and  solvents;  used  motor  oil  and  filters,  anti-freeze,  and  other  automotive  fluids;  cleaning products;  pool  and  garden  chemicals;  aerosol  cans;  all medicine;  auto  batteries;  household  (alkaline)  batteries; fluorescent tubes and bulbs, thermostats, and other mercury-containing lamps.
E-waste (Saturdays only):
Computers, monitors, printers, network equipment,  cables,  telephones,  televisions,  microwaves, video games, cell phones, radios, stereos, VCRs, and electronic  toys.
*Residents  are  limited  to  a  total  of  six pieces  of  electronic  waste  per  visit  to  a  SAFE  Center and will be accepted on Saturdays only.
For more information, please click here:
UCLA S.A.F.E. Center Flyer
8.  HWPOA CONTACT INFORMATION
HOLMBY WESTWOOD PROPERTY OWNERS ASSOCIATION, INC.
P.O. Box 49180
Los Angeles, CA 90049
310-470-1785
Email: hwpoa@aol.com
Web site: www.holmbywestwoodpoa.org
Pay Membership Dues: https://squareup.com/store/hwpoa

You Are Invited . . .
To attend our monthly Board Meetings*
NO DECEMBER MEETING
NEXT MEETING IN JANUARY – DATE TBD
To let us know your concerns about our community and your ideas about how we might work to improve it
To become involved in our Association.
*Board Meetings are usually held the second Tuesday of each month at 8:00 pm at Belmont Village (10475 Wilshire Blvd.).  Please confirm prior to attending.