HOLMBY NEWS



July 7, 2017
From the Holmby Westwood Property Owners Association, serving the Holmby Westwood community since 1960.
1.  July 4th Event – Thank You!
2.  HWPOA  – July Board Meeting Cancelled
3.  Westwood Village – Cinema Under the Stars
4.  LAPD Carnival
5.  Jewish Film Festival – Leo Baeck Temple
6.  LAPD National Night Out
7.  HWPOA Contact Information
1.  JULY 4th EVENT – THANK YOU!

A huge thank you to our residents and sponsors!!!
It was our 13th annual event…..and we grew again by hundreds of attendees. It was a large and festive 4th of July celebration! See the pics below—it was a ton of fun!
THANK YOU TO OUR SPONSORS:
ACS Security has been feeding us for many years. They happily and swiftly cooked for the entire crowd. Their BBQ dedication was fantastic. To Debbie Allen and her volunteer staff, your dogs were delicious and the line was so super efficient. Amazing!
Chris Fernicola of Kringle Displays: Making Creativity Visual. The July fourth decorations in Holmby Park were designed and installed by Chris Fernicola owner of Kringle Displays Los Angeles. Personalized seasonal, Holiday and Promotional Displays for: Retail Centers, Private Homes and Estates, Premium Hotels, Corporate Offices and Public Spaces.
UCLA Health returned for the 4th year as our Platinum sponsor with a generous contribution that covered many of our expenses. Thank you, UCLA Health for your support of Holmby Westwood. All enjoyed the fans and beach ball giveaways.
Ralphs returned for the 4th year as our Gold Sponsor with their iconic Ralphs antique Delivery Truck in our parade.
Target in Westwood kept kids smiling with face painting and lemonade. Thank you to Rudy and his friendly Target team.
Whole Foods was new this year with their 365 guessing game
Our local realtors also deserve our appreciation for their sponsorship. Their sponsorship covered all the kids activities, including the DJ, obstacle courses and crafts.
Mark Rogo
Jim Bremner
Jordana Leigh
Larry Young
Jane Gavens
Caron Schwartz
The firemen from Fire Station #71 were outstanding and so gracious to stay at the park while kids admired them and their truck. Thanks to the LAPD too.
Thank you to Stan's Doughnuts for donating treats for the LAPD, LAFD and event volunteers!
THANK YOU TO OUR TEAM:
Esther Magna, Caron Schwartz, Rachelle Guerin, Dennis Rosenblatt, Phil Gabriel, Rochelle Glucksman,  Randie Kleinman, Katherine Meyer, Jessie Ezor made a great team with the help of Dana and Sandy. Special thanks to Victor and Lorenzo at the park who allowed us to take it over for the day.
Want to help next year? Email Esther: emagna@msn.com
SPREAD THE WORD about the good work our association does for the benefit of its residents. Community building, regular email communication among the residents and advocacy in City Hall are just a few of the activities our Board undertakes. We must work together for our shared concerns of architectural integrity, greenscape preservation, emergency preparedness and crime watch. Residents pay $95 annually to join HWPOA. You must pay the dues to be a member; being a resident alone won't do it. Email Dana to sign up at hwpoa@aol.com.
Please send your business to our main sponsors, as they dedicated their time for goodwill and exposure. These sponsors ensure our event takes place with food and activities for all!
ACS Security
-Main Office: (310) 475-9016
-Major Issues: Debbie Allen, (310) 475-9016
UCLA Health
http://www.uclahealth.org/
Chris Fernicola of Kringle Displays Making Creativity Visual
www.kringledisplays.net
310.625.0118
Our local realtors:
Jim Bremner:
http://www.jamesbremner.com/
Larry Young:
http://www.larryyoungwestside.com/
Jane Gavens:
www.brillgroup.com
Caron Schwartz:
http://www.caronschwartz.com/
Jordana Leigh:
http://jordanaleigh.rodeore.com/eng
Mark Rogo:
http://www.markrogo.com/
Ralphs on Le Conte
Target on Weyburn
Whole Foods on Gayley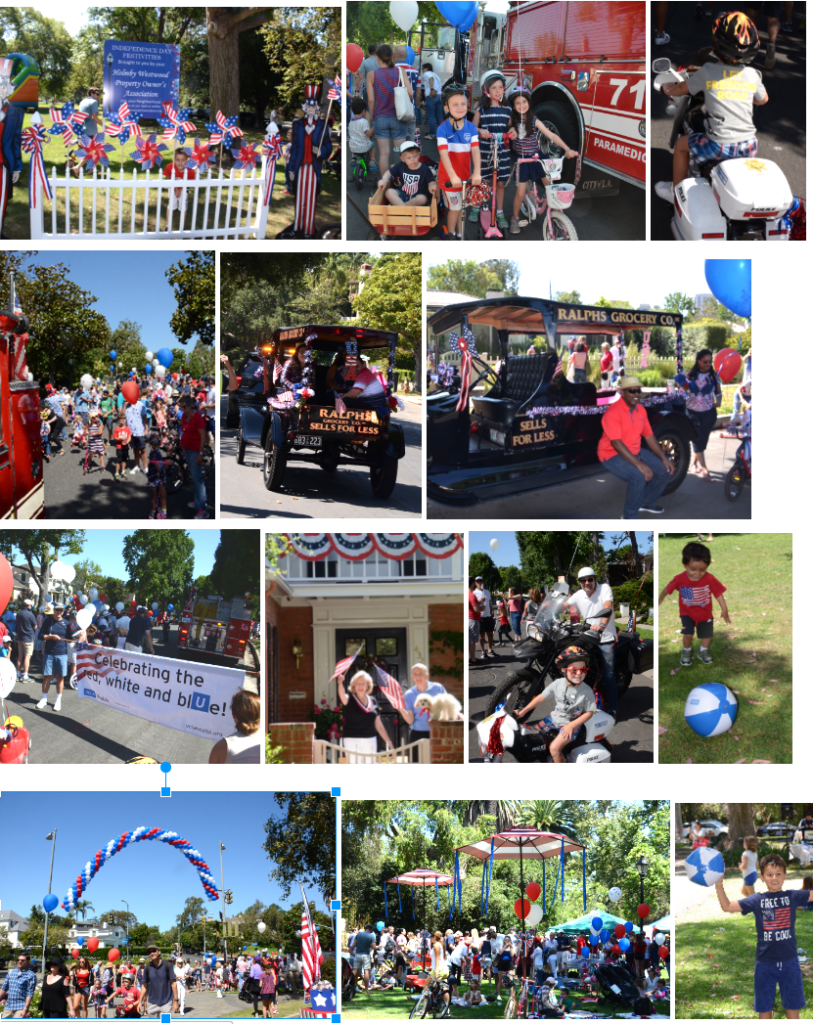 2.  HWPOA – JULY BOARD MEETING CANCELLED

There will no HWPOA board meeting in July.  Please join us for our next board meeting, scheduled for Tuesday, August 8.
3.  WESTWOOD VILLAGE – CINEMA UNDER THE STARS
Cinema Under the Stars: The Incredibles – Friday, July 14 in the surface parking lot located at 1031 Broxton Ave. next to Barney's Beanery.  With the Westwood Village Fox Theatre in the background, fans can enjoy films completely free on a big screen under the stars.
Moviegoers are invited to bring their own lawn chairs and blankets to enjoy the screening in this unique outdoor setting. Attendance is free and open to the public, and moviegoers are encouraged to show up early to stake a sweet spot and grab some snacks.  Tickets are not required to attend.
Friday, July 14, 2017 ~ The Incredibles
Friday, August 25, 2017 ~ Moana
Doors open at 6:00pm
Live DJ set with DJ Chantz at 6:30pm – 8:30pm
Movie starts at 8:30pm
Prizes, giveaways, & snacks!
4.  LAPD CARNIVAL

The West LAPD is holding a Street Carnival on July 14, 15 and 16th.  The event will be held on Pico between Barrington & Bundy.
This event is going to benefit our at risk youth in WLA and support some much needed station improvements and equipment for your hard working men and women who Protect and Serve your community.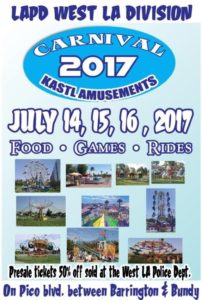 5.  JEWISH FILM FESTIVAL – LEO BAECK TEMPLE

Jewish Film Festival
Leo Baeck Temple, 1300 N. Sepulveda. Free parking.
Tuesday, July 18, at 7 pm
$5.00 per ticket. Purchase at door. Light refreshments.
Come join us to watch "Infidel" – A hilarious, ribald, satirical film that will have the audience laughing out loud!
The set up of the movie. Mahmud (wonderful Iranian comic actor Omid Djalili) is a loving husband, doting father and something of a "relaxed" Muslim. He may not be the most observant, but in his heart he is a true Muslim. After his mother's death, Mahmud finds his birth certificate which reveals that he was adopted at birth and HE'S JEWISH.
He turns to Lenny (Richard Schiff of the WEST WING), a drunken Jewish cab driver to help him with this life crisis. So many plot twists so much to laugh at and so much fun. A satirical send up of almost every group and religion.
6.  LAPD – NATIONAL NIGHT OUT

National Night Out is a community police-awareness-raising event in the United States, which is annually held on the first Tuesday in August.  National Night Out was created to increase awareness about police programs in communities.
The West LA Community Police Station will be holding an event on Tuesday, August 1st:
National Night Out
Tuesday, August 1st
5:00 to 9:00 PM
Stoner Park Recreation Center
1833 Stoner Ave., 90025
For more information, click here:
National Night Out 2017
For further information, call West Los Angeles Community Police Station, Community Relations Office:  310-444-0730
7.  HWPOA CONTACT INFORMATION
HOLMBY WESTWOOD PROPERTY OWNERS ASSOCIATION, INC.
P.O. Box 49180
Los Angeles, CA 90049
310-470-1785
Email: hwpoa@aol.com
Web site: www.holmbywestwoodpoa.org
Pay Membership Dues: https://squareup.com/store/hwpoa

You Are Invited . . .
To attend our monthly Board Meetings*
To let us know your concerns about our community and your ideas about how we might work to improve it
To become involved in our Association.
*Board Meetings are usually held the second Tuesday of each month at 8:00 pm at Belmont Village (10475 Wilshire Blvd.).  Please confirm prior to attending.