HOLMBY NEWS



February 9, 2018
From the Holmby Westwood Property Owners Association, serving the Holmby Westwood community since 1960.
1.  HWPOA Board Meeting
2.  LAPD Crime Report – "Door Checking"
3.  City of Los Angeles Website
4.  Congressional Art Competition
5.  Lawn Bowling – Open House Event
6.  Runners – Save the Date: 10K and Half Marathon
7.  HWPOA Communication and Ad Policy
8.  Resident Ads
9.  HWPOA Contact Information
1.  HWPOA BOARD MEETING
On Tuesday, February 13 at 8:00 PM, the HWPOA Board of Directors will hold its monthly meeting at Belmont Village, 10475 Wilshire Blvd.  Please click here to see the agenda.
Members of the community are welcome to attend, though space is limited. Please let us know if you plan to attend.  Email Dana at hwpoa@aol.com.
2.  LAPD CRIME REPORT – "DOOR CHECKING"

The following information was provided by Officer Maria Gray, Senior Lead Officer for the Brentwood area.  While these incidents occured in Brentwood, we are posting this due to the proximity and similarity of the neighborhoods:
DOOR CHECKING – CARS & RESIDENCES
Property theft suspects are conducting a "Door Checking" modus operandi in that they walk the streets of our neighborhood in the middle of the night, yanking on car doors and/or residential doors looking for opportunities to steal readily available items.
There is a team of teenagers that have been coming up from South Los Angeles that conduct "Door Checking" but their interest is concentrated on stealing high end cars, and sadly, they have been quite successful.  If the car door is open, they press the break and hit the start button and if it starts, they're southbound.  There have been several arrests of this ring but since they are minors, they are immediately cited out to their parents with an upcoming court date and released – and then the come right back to Brentwood.  When asked why they return time and time again to our community, they told the detective that it's because they've been so successful since so many people leave their fobs within their cars and the doors unlocked.
Please check your vehicles to ensure that there isn't a fob inadvertently left in the center console or perhaps under the seat.  Each success that these thieves have provides them with the positive reinforcement that draws them back to our community.
Individuals are now expanding their door checking to INCLUDE RESIDENCES. They'll pull on a door handle of a car parked in the driveway and, if unsuccessful, they go up to the house and pull on the residential door as well. If left unlocked, they enter the residence, but typically they don't go very deep into the house. They are looking for purses or car keys left on the entry table, or laptops on the coffee table, etc. — anything that they can quickly grab and run with.  Please keep your door locked and if you have an alarm system – use it.
3.  CITY OF LOS ANGELES WEBSITE

The City of Los Angeles' website has information about everything that happens in L.A.  You can find information about recycling, water conservation and bulky item disposal.  You can pay parking tickets and renew dog licenses.  You can also find information about cultural events and recreational activities.  For more information, please click here:
4.  CONGRESSIONAL ART COMPETITION

Each spring, a nation-wide high school arts competition is sponsored by the Members of the U.S. House of Representatives. The Artistic Discovery Contest is an opportunity to recognize and encourage the artistic talent in the nation, as well as in our Congressional District.
Winners are recognized both in their district and at an annual awards ceremony in Washington, DC. The winning works are displayed for one year at the U.S. Capitol.
The Artistic Discovery Contest is open to all high school students (9-12th grade) who either reside or attend school in the 33rd District.  Submission deadline is April 6, 2018.  For more information, please click the flyer below: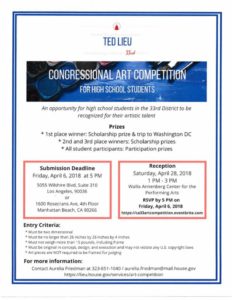 5.  LAWN BOWLING – OPEN HOUSE EVENT

Last October, the Holmby Park law bowling club celebrated its 90th Anniversary in this beautiful park. As part of the continuation of this remarkable success, all HWPOA members are cordially invited for an Open House on Saturday, February 24 at 10:30 AM. Each participant will be offered snacks, drinks and special vouchers for four free, one hour lessons. These vouchers could be used on any Tuesday, Thursday or Saturdays. This is a healthy, fun activity for all ages.
For more information, please visit:
www.losangeleslawnbowling.com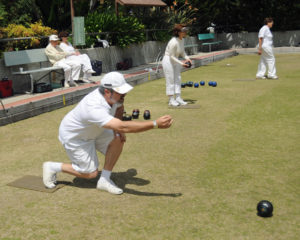 6.  RUNNERS – SAVE THE DATE: 10K AND HALF MARATHON

Run to Remember LA is a 10K and Half Marathon race that pays tribute to First Responders who have made the ultimate sacrifice.  The race will be held on April 8, 2018.
Run To Remember raises funds to help support the families of fallen first responders and to provide funding to partner charities who have developed a variety of community programs such as police mentorship, education and scholarships for youth, equipment for local police and fire departments, at-risk-youth programs and veteran support.
For more information or to register or make a donation, please click here:  https://www.runtorememberla.org/
7.  HWPOA COMMUNICATION AND AD POLICY
Please direct all comments, questions or issues regarding the Holmby News to hwpoa@aol.com.
Ads for plumbers, housekeepers, garage sales, etc. will be posted in the weekly News. Emergency situations such as coyote sightings, lost and found pets, traffic alerts and similar situations will continue to be published during the week as received.
When placing an ad, please send to hwpoa@aol.com for the Holmby News moderator to review.  Responses to ads should be directed to the ad placer, not to HWPOA.
8.  RESIDENT ADS
PROFESSIONAL CLEANING SERVICE RECOMMENDATIONS
Looking for a professional cleaning crew to do deep cleaning after construction.  Please send recommendations.
Thanks!
shelleyeisner@me.com
9.  HWPOA CONTACT INFORMATION
HOLMBY WESTWOOD PROPERTY OWNERS ASSOCIATION, INC.
P.O. Box 49180
Los Angeles, CA 90049
310-470-1785
Email: hwpoa@aol.com
Web site: www.holmbywestwoodpoa.org
Pay Membership Dues: https://squareup.com/store/hwpoa

You Are Invited . . .
To attend our monthly Board Meetings*

To let us know your concerns about our community and your ideas about how we might work to improve it
To become involved in our Association.
*Board Meetings are usually held the second Tuesday of each month at 8:00 pm at Belmont Village (10475 Wilshire Blvd.).  Please confirm prior to attending.