HOLMBY NEWS



February 2, 2018
From the Holmby Westwood Property Owners Association, serving the Holmby Westwood community since 1960.
If you recently received a membership renewal notice,
you can pay your dues here:
Renew HWPOA Membership
1.  LAPD Crime Report
2.  DWP Scheduled Power Outage
3.  Letter Regarding Holmby Westwood Security
4.  New YMCA – Grand Opening
5.  Westwood Library – Book Donations Needed
6.  Westwood Horizons Update
7.  Neighborhood Council Election Workshops
8.  Westwood Library – February Happenings
9.  Upcoming Community Events
10.  HWPOA Communication and Ad Policy
11.  Resident Ads
12.  HWPOA Contact Information
1.  LAPD CRIME REPORT

BURGLARY (entry of structure w/intent to commit theft or a felony)
Incident #: 180805074
10400 BLOCK LINDBROOK DR  |  1/23/2018 @ 7:45 PM
BURGLARY FROM VEHICLE
Incident #: 180805125
800 BLOCK BIRCHWOOD DR  |  1/26/2018 @ 12:01 AM
You may access crime mapping at www.crimemapping.com to review recent crimes in your area. Sign up to receive alerts when crime is reported in your neighborhood.
E-Policing: http://www.lapdonline.org/e_policing
EMERGENCY: 911
NON-EMERGENCY: 1-877-275-5273
All other City Services: 311
Christopher Ragsdale, Senior Lead Officer
West Los Angeles Community Police Station
Office: 310-444-0741
Email: 26690@lapd.lacity.org
Website: www.lapdonline.org
2.  DWP SCHEDULED POWER OUTAGE

The Dept. of Water & Power has scheduled a power outage for Saturday, February 3, 2018 in the Holmby Westwood area to replace cables.  Affected streets include:
10564-10582 Lindbrook Dr.
10636 Wilshire Blvd.
10595-10655 Ashton
1230 Westholme Ave.
Time outage will begin: 6:00 AM
Expected outage duration: 8 hours
The DWP usually will have 2 outages approximately 3-4 weeks apart: depending on the scope of work this time can be longer or shorter.
The length of time of the actually outage duration will always be kept as short as possible. However, they do have other organizations involved and at times may not get the authorities as scheduled, which then pushes the start times out and obviously the end times as well.  The DWP is hoping to minimize the impact on their customers.
HWPOA has contacted the LAPD and requested additional patrols in the area during the power outage, as alarms and other security features that rely on electricity will be disabled during the outage.
3.  LETTER REGARDING HOLMBY WESTWOOD SECURITY

Regarding inquires to HWPOA about the "Holmby Westwood Security Concerns" letter received by residents this week, HWPOA does not recommend or endorse any service provider. The letter was sent by concerned residents in Holmby Westwood.
4.  NEW YMCA – GRAND OPENING

Join us for a FREE Community Open House on Saturday, February 3, 2018 (10:30AM – 2:00PM) to celebrate the Grand Opening of Collins & Katz Family YMCA.
Collins & Katz Family YMCA
1466 S Westgate Avenue
Los Angeles 90025
Free parking available in the Y's attached parking garage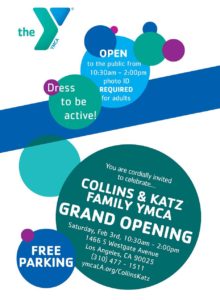 Neighbors of all ages are invited to sample group exercise classes, participate in family activities — including arts & crafts and obstacle course), enjoy food trucks, complimentary massages, membership incentives and more.
Collins & Katz Family YMCA features two indoor heated pools, exercise studios, fitness center, full size gym, rooftop deck with outdoor basketball court & walking track, child activity center, locker rooms with steam room and sauna, social lounge and community room. Teens can look forward to a Teen Fitness Center, Teen Leadership Room and Teen Activity Center.
Collins & Katz Family YMCA's Community Open House is open to the public and RSVP is not required.  For more information, please give us a call at 1-310-477-1511 or visit us at the branch.
WEBSITE – Collins & Katz Family YMCA
5.  WESTWOOD LIBRARY – BOOK DONATIONS NEEDED

The Friends of Westwood Library Needs YOUR Help!  What to do with your books once you have read them? Donate them to the Friends of Westwood Library for our book sales.  Did you know that a significant portion of our budget comes from reselling books that our wonderfully literate community donates to us? Imagine your used books purchasing NEW books for our library!
Here is a list of what we can use:
Children's books
Fiction, poetry, essays, memoirs, plays
General interest non-fiction
Graphic novels
Art books
And HERE is a list of what we CANNOT accept:
Textbooks of any kind; Encyclopedias
Highly specialized scholarly monographs
Teachers' manuals; Course manuals or readers; Computer books
Outdated (more than 2 years old) test prep. materials, restaurant and travel guides, manuals, diet/medical/advice books, etc.
Children's activity books that have been used—e.g., workbooks, sticker books, etc.
Books with a lot of markings—e.g., underlining, highlighting, etc.
Damaged books
Magazines of any sort
Cassette tapes, laser disks, VHS tapes
Please take your donations to the lowest level of the library parking lot and leave them by the cage on the left side.  Don't forget to go back up to the library to get your parking validated.
To request pick up from your home, please contact lwinikow@yahoo.com
6.  WESTWOOD HORIZONS UPDATE

A situation which began with the shock of eviction notices being placed on the doors of Westwood Village senior tenants on Thanksgiving 2016, has finally been resolved in a manner acceptable to the remaining tenants and the 947 Tiverton Avenue building's Arizona-based owners, Watermark.
Under a "Tenant Habitability Plan" (THP) approved by all parties and supported by Councilmember Koretz, the tenants will be relocated to the Glendon, a nearby fully-accessible apartment building, have catered meals to replace the in-house dining room they enjoyed for decades at the old building, and be furnished accessible bathtubs, as needed, at Watermark's expense.
While the tenants are living at the nearby Glendon, Watermark will seismically retrofit the Tiverton building and do a massive upgrade to its electrical, elevator and heating-air conditioning equipment, among other things. The work is expected to take at least a year and the tenants who negotiated the THP conditions, with the help of the legal aid firm Bet Tzedek, will then be able to return to Tiverton under the same rent-controlled circumstances they have enjoyed for years.
7.  NEIGHBORHOOD COUNCIL ELECTION WORKSHOPS

This February and March, the City Clerk is holding workshops across the City to discuss and learn about Neighborhood Council elections. Topics to talk about and give feedback on include candidate filing, online voting, Election Day operations, and Election outreach.
For more information and to see a list of workshop dates and locations, please click here:
Neighborhood Council Election Workshops
All workshops are open to the public.  Free parking is available at every location.  If you'd like more information, please contact City Clerk – Election Division at (213) 978-0444 or (888) 873-1000.
8.  WESTWOOD LIBRARY – FEBRUARY HAPPENINGS
The Westwood Branch Library has a busy month of events and activities for adults, teens and children.  Some of the programs include:
Concert: 8 Brazilian Cellists (see Upcoming Community Events)
B&W Movie Classic Night:  Hitchcock's 'Notorious'
Tax Update Workshop
Light Saber Dueling from Darth and Luke!
Computer Comfort Class
Reading to Dogs – visit with therapy dogs
For a complete list of upcoming events, please click here:
https://www.lapl.org/branches/westwood
9.  UPCOMING COMMUNITY EVENTS

FREE Concert Series @ Westwood Library – Sunday, February 4 , 2018 at 2:30 PM at Westwood Library (1246 Glendon Ave.). Join us for the first concert in the 2018 season of our popular concert series. We'll be upstairs in the library on a Sunday afternoon when the library is not open for regular business.
We're fortunate to be able to welcome 8 BRAZILIAN CELLISTS for this fabulous concert of catchy, rhythmic Latin American music. Don't miss it!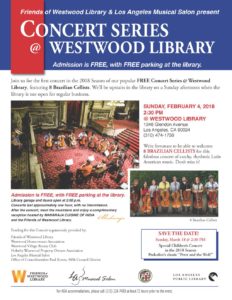 Admission is FREE, with FREE parking at the library. Library garage and doors open at 2:00 p.m. Concerts last approximately one hour, with no intermission.
After the concert, meet the musicians and enjoy a complimentary reception hosted by Westwood restaurant MAHARAJA CUISINE OF INDIA and the Friends of Westwood Library.
Hammer Museum Events – Come visit a world-class museum in the heart of Westwood Village!  Admission is free.  For a complete list of exhibitions, programs and upcoming events, please click here:
Metro Art Events – From a Shakespearian themed Valentine's Day art tour to a Mardi Gras music and dance procession, here's your guide to all the Metro Art events happening in February. Did we mention they're all free and open to the public?
100 Hidden Gems of L.A. – You could live here for decades and still never see it all. That's the beauty of our city.  From Los Angeles Magazine:  For those of you who like to find different things to do in Los Angeles, check out this list of 100 things every Angeleno should do at least once:
An Insider's Guide to the 100 Hidden Gems of L.A.
10.  HWPOA COMMUNICATION AND AD POLICY
Please direct all comments, questions or issues regarding the Holmby News to hwpoa@aol.com.
Ads for plumbers, housekeepers, garage sales, etc. will be posted in the weekly News. Emergency situations such as coyote sightings, lost and found pets, traffic alerts and similar situations will continue to be published during the week as received.
When placing an ad, please send to hwpoa@aol.com for the Holmby News moderator to review.  Responses to ads should be directed to the ad placer, not to HWPOA.
11.  RESIDENT ADS
HANDYMAN NEEDED
Looking for a good Handyman who can work weekdays.  Please send me your recommendations.
Thanks,
shelleyeisner@me.com
12.  HWPOA CONTACT INFORMATION
HOLMBY WESTWOOD PROPERTY OWNERS ASSOCIATION, INC.
P.O. Box 49180
Los Angeles, CA 90049
310-470-1785
Email: hwpoa@aol.com
Web site: www.holmbywestwoodpoa.org
Pay Membership Dues: https://squareup.com/store/hwpoa

You Are Invited . . .
To attend our monthly Board Meetings*
NEXT MEETING – FEBRUARY 13

To let us know your concerns about our community and your ideas about how we might work to improve it
To become involved in our Association.
*Board Meetings are usually held the second Tuesday of each month at 8:00 pm at Belmont Village (10475 Wilshire Blvd.).  Please confirm prior to attending.