HOLMBY NEWS



September 8, 2017
From the Holmby Westwood Property Owners Association, serving the Holmby Westwood community since 1960.
1.  HWPOA Board Meeting
2.  LAPD Crime Report
3.  Food Truck Regulation
4.  Movie Premieres – Street Closures
5.  Volunteers Needed
6.  Upcoming Community Events
7.  HWPOA Communication and Ad Policy
8.  Resident Ads
9.  HWPOA Contact Information
1.  HWPOA BOARD MEETING

On Tuesday, September 12 at 8:00 PM, the HWPOA Board of Directors will hold its monthly meeting at Belmont Village, 10475 Wilshire Blvd.  Please click here to see the agenda.
Members of the community are welcome to attend, though space is limited. Please let us know if you plan to attend.  Email Dana at hwpoa@aol.com.
2.  LAPD CRIME REPORT

THEFT FROM VEHICLE – GRAND ($950.01 & over)
Incident #: 170815186
700 BLOCK GLENMONT AV  |  9/2/2017 @ 2:00 PM
You may access crime mapping at www.crimemapping.com to review recent crimes in your area. Sign up to receive alerts when crime is reported in your neighborhood.
E-Policing: http://www.lapdonline.org/e_policing
EMERGENCY: 911
NON-EMERGENCY: 1-877-275-5273
All other City Services: 311
Christopher Ragsdale, Senior Lead Officer
West Los Angeles Community Police Station
Office: 310-444-0741
Email: 26690@lapd.lacity.org
Website: www.lapdonline.org
3.  FOOD TRUCK REGULATION

Good news for neighbors who have expressed growing concern over food trucks causing traffic accidents, reducing driver visibility and creating quality of life issues such as property damage and littering. The Los Angeles City Council is adopting more sensible regulations that escalate fines on food trucks operating in residential areas for extended periods of time.
The new regulations prohibit food trucks from parking at any residential location for a period that exceeds 30 minutes, and also prohibits them from parking within two blocks they had been parked at said residential location within a four-hour period. Further, a food truck moving out of a location momentarily and then returning within the four-hour limitation does not reset the clock; the time and distance requirements still apply. Failure to comply will be treated as separate and distinct offenses and each subsequent violation will be subject to escalating parking penalties of $73 for a first violation, $123 for the second violation, and $173 for the third.
At this time, it is unclear whether Holmby Park is considered at "residential location" (the regulations may only apply to the residential side of the street).  We will let you know when we get more information.
4.  MOVIE PREMIERES – STREET CLOSURES
Warner Bros will be holding the Premiere of "Lego Ninjago", at 11:00 AM on Saturday, September 16th, 2017 at the Regency Village Theaters, located at 961 Broxton Avenue in Westwood.
Fox Searchlight will be holding the Premiere of "Battle of the Sexes", at 8:00 PM on Saturday, September 16th, 2017 at the Regency Village Theaters, located at 961 Broxton Avenue in Westwood.
There will be various sidewalk and street closures around the area of Broxton Avenue between Weyburn Avenue and Le Conte Avenue.
If you have any questions or concerns regarding either of these events, feel free to contact Eric Tremble at 323-229-1626.
5.  VOLUNTEERS NEEDED

Several organizations are currently in need of volunteers:
Stand Down 2017 – October 27, 2017.  The Greater Los Angeles Veterans are in need of 100 volunteers for the Stand Down 2017.  The Stand Down is an all day event providing supplies and services to homeless Veterans, such as food, shelter, clothing, health screenings and VA Social Security benefits counseling.  To register, please go to: www.bwscampus.com/standdown.
LA Waterway Cleanup –  October 19, 2017 at Santa Monica Beach.  United by Blue is an outdoor apparel brand with a commitment to waterway conservation. For every product UBB sells, we pick up 1 pound of trash from oceans and waterways through community organized cleanups. This October, United by Blue is teaming up with REI stores in SoCal, and other local conservation groups for 4 cleanups in the Greater Los Angeles area. We are currently looking for volunteers to help.  For more information and to sign up, please click here:  Santa Monica Beach Cleanup
6.  UPCOMING COMMUNITY EVENTS
The Walker Cup Golf Tournament – Sept. 9-10 at the Los Angeles Country Club.   One of the most iconic men's amateur golf tournaments in the world is happening this weekend at Los Angeles Country Club, The Walker Cup.  It is the United States team against the Great Britain & Ireland team.
For more information and to purchase tickets, please click here:  2017 Walker Cup .   This event is free for kids under 16 with a parent and free for active military too.
Westwood Neighborhood Council Meeting – Wednesday, Sept. 13 at 7:00 PM.  Meeting will be held at Westwood Presbyterian Church (10822 Wilshire Blvd., next to IPIC).
The WWNC (Westwood Neighborhood Council) is a certified advisory board to the City of Los Angeles City Council. The WWNC is an elected council within the LA Neighborhood Council system. Our role is to make a difference in Westwood through outreach, grants to non-profits, and representation of our stakeholders to the Los Angeles City Council. We strive to represent the views of our stakeholders who live, work, or own property within our neighborhood boundaries.
Free Bulky Item Drop Off – Saturday, September 16th
It's time for fall cleaning! Do you have bulky items to get rid of? We have options for you!  You can bring your items to one of five locations around the City, including:
West L.A. District Yard
2027 Stoner Ave.
Los Angeles, 90025
For more information about this event, please click here:
Bulky Item Drop-Off
Free Museum Admission Day – Sunday, September 17.  Free admission: It's coming for one day to more than 50 museums across Southern California as part of the upcoming Pacific Standard Time exhibitions.  PST: LA/LA, which will explore Latin American and Latino art here and beyond through four months of exhibitions, public events and performances at SoCal museums, has its official launch party on Sept. 14. Dozens of museums will offer free admission on the following Sunday, Sept. 17. They include the Hammer Museum, the Skirball Cultural Center, the Los Angeles County Museum of Art and the California African American Museum, all in L.A.; as well as the Museum of Latin American Art in Long Beach, the Pasadena Museum of California Art and the Santa Barbara Museum of Art.
For more information about free admission day, please click here:
http://www.pacificstandardtime.org/en/events/
UCLA Botanical Garden Open House – Tuesday, Sept. 26, 2017.   Dean Victoria Sork, Division of Life Sciences and Professor Phil Rundel, Garden Director invite you to drop by the public open house showcasing the beautiful new La Kretz Garden Pavilion:
Tuesday, September 26, 2017
Mildred E. Mathias Botanical Garden, UCLA
12:00 p.m. – Live music in The Nest
1:00 p.m., 2:00 p.m., 3:00 p.m. – Docent tours
(reservations not required)
4:00 p.m. – Distinguished lecture by renowned botanist,
Peter Raven '60
Due to limited seating, reservations are required for the lecture
RSVP by Tuesday, September 19, 2017, to Janice Shintaku
collegeevents@support.ucla.edu
(310) 206-6503
7.  HWPOA COMMUNICATION AND AD POLICY
Please direct all comments, questions or issues regarding the Holmby News to hwpoa@aol.com.
Ads for plumbers, housekeepers, garage sales, etc. will be posted in the weekly News. Emergency situations such as coyote sightings, lost and found pets, traffic alerts and similar situations will continue to be published during the week as received.
When placing an ad, please send to hwpoa@aol.com for the Holmby News moderator to review.  Responses to ads should be directed to the ad placer, not to HWPOA.
8.  RESIDENT ADS
SEEKING PLUMBER
I am looking for a good plumber who is trustworthy and honest.  If you have a recommendation, please contact tracypenhas@hotmail.com.  Thanks!
——————————————————————
CHANDELIER FOR SALE
Beautiful Maria Teressa 16 light crystal chandelier, measures 28 inches wide about the same height.  Cost over $2,000 and is in perfect condition.  This is the real thing, not a cheap knock off from China.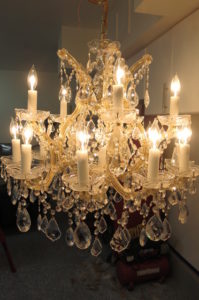 We have no suitable place for it in our new home and would like to find a buyer with whom to negotiate a reasonable price.
Buyer to then donate the agreed price to St Judes Children's Hospital in exchange for the chandelier.  This would effectively make the purchase tax deductible with the purchase price qualifying as a charitable donation.  This way the chandelier finds a new home, and the charity benefits.
If you have an interest I have photographs available that I can email.
Thank you
Brian Carter
blc99@eartlink.net
310 889 4692
——————————————————————
AUDIOLOGIST RECOMMENDATION
If anyone is looking for an excellent, highly qualified audiologist (who'a actually willing to make housecalls, if necessary) I highly recommend this professional.
Melissa Alexander
424-738-3778
1304 15th st   #405
Santa Monica
Thanks,
Jo-Ann Lautman
ohjoey485@icloud.com
9.  HWPOA CONTACT INFORMATION
HOLMBY WESTWOOD PROPERTY OWNERS ASSOCIATION, INC.
P.O. Box 49180
Los Angeles, CA 90049
310-470-1785
Email: hwpoa@aol.com
Web site: www.holmbywestwoodpoa.org
Pay Membership Dues: https://squareup.com/store/hwpoa

You Are Invited . . .
To attend our monthly Board Meetings*
To let us know your concerns about our community and your ideas about how we might work to improve it
To become involved in our Association.
*Board Meetings are usually held the second Tuesday of each month at 8:00 pm at Belmont Village (10475 Wilshire Blvd.).  Please confirm prior to attending.