HOLMBY NEWS



July 14, 2017
From the Holmby Westwood Property Owners Association, serving the Holmby Westwood community since 1960.
1.  HWPOA Security Survey
2.  Egging Vandalism Incident
3.  UCLA Faculty Center – Now Open to Neighbors
4.  Earthquake Safety
5.  Westwood Village – Cinema Under the Stars
6.  Pop Up Used Book Sale – Westwood Library
7.  SB 649 – Cell Tower Legislation
8.  Upcoming Community Events
9.  HWPOA Communication and Ad Policy
10.  Resident Ads
11.  HWPOA Contact Information
1.  HWPOA SECURITY SURVEY

Dear Residents,
In our continuing effort to prevent crime in our community, the security committee of the HWPOA has prepared a survey to monitor overall performance of the security companies in our area.  We had a very good response to our last survey, more than 5 years ago, and a new survey would be very beneficial at this time.
Please take a few minutes to answer the following brief questions.  Note that your identities will be strictly confidential, unless you specifically request that a member of the security committee contact you.  To go to the survey, please click here:
HWPOA SECURITY SURVEY – CLICK HERE
2.  EGGING VANDALISM INCIDENT

On Wednesday, July 12 around 3:30 PM, a home on Loring near Warner School was "egged" by what looks like 3 young teenage boys walking from Holmby Ave..  The homeowners have video surveillance footage of the incident, which can be seen here: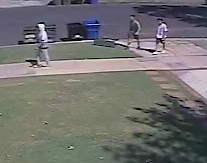 If you recognize these vandals or have any other helpful information, please contact scsinco@gmail.com.  Thank you.
3.  UCLA FACULTY CENTER – NOW OPEN TO NEIGHBORS

Dear Westwood Neighbors,
In order to serve our neighbors, the UCLA Faculty Center Board of Governors is delighted to open membership to all of you.
SERVICES: During the summer, we are open M-F for lunch, coffee, afternoon drinks & small bites, Taco Tuesdays, and Thursday night barbecues. During the school year, there are a number of other options, such as full breakfast in the Playa Lounge.
Try us for your private events, with a new 15% members' discounts on room rentals and AV. We also have a play reading group and book group.
The Faculty Center is ideal for special life-cycle events, hosting out-of-town guests or clients, or coming with your family for our delightful Thursday night summer barbecues on the Rose patio (featuring a make-your-own-sundae bar). Our members can also attend sumptuous buffet meals for Valentine's Day, Mothers' Day, and other holidays.
PARKING & TRANSPORTATION: If you attend an event after 4:30 during the week or all day on weekends, you can request parking in Lot A (next to the Faculty Center back door) at one of the parking kiosks. UCLA parking fees apply: $12/day, disabled $7/day, pay-by-space (Structure 2) $1 for every 20 minutes. If you host a personal event, the Faculty Center can purchase parking for you and your guests and add it to your bill.
But one big plus for many of our neighbors: You can walk to the Faculty Center! And you can also come by bicycle or motorcycle and park at no charge!!
JOINING & MEMBERSHIP: The Faculty Center requires no initiation fee, and membership is only $25/month. Upon joining, you will provide a credit card on file for monthly billing for membership, food, & drink. Our food and beverage prices are below market, and there is no tipping. To join, stop by the desk at the Faculty Center, 480 Charles Young Drive, or call 310 825 0877. Please identify yourself as a Westwood neighbor.
For more information about membership, please go to
http://facultycenter.ucla.edu/Membership/Membership-Types.aspx
Other information can be found at http://facultycenter.ucla.edu
IN CONCLUSION: We hope many of you will enjoy our delicious cuisine, beautiful patios, and unique mid-century modern architecture. We are excited to be able to reach out to our surrounding community! On behalf of our Board of Governors, we look forward to welcoming you as members of the UCLA Faculty Center!
Best wishes,
Patricia Greenfield
Distinguished Professor, Department of Psychology
President, UCLA Faculty Center Board of Governors
4.  EARTHQUAKE SAFETY

State officials Thursday released new maps outlining the locations of earthquake fault lines that run under Westwood.  For the complete story, please CLICK HERE.
It is a good reminder that everyone should be prepared for a major earthquake or disaster.  Below, you will find links to a number of websites that may be helpful with earthquake preparedness and safety:
SURVIVAL CHECKLIST
For a list of important supplies that will be needed during an emergency, please click the link below.  This list includes items such as first aid supplies, non-prescription drugs, pet supplies, food, sanitation items, and much more.
Survival Checklist Link:
SURVIVALLIST2
5.  WESTWOOD VILLAGE – CINEMA UNDER THE STARS

TONIGHT – Friday, July 14
Cinema Under the Stars: The Incredibles
Located in the surface parking lot located at 1031 Broxton Ave. next to Barney's Beanery.  With the Westwood Village Fox Theatre in the background, fans can enjoy films completely free on a big screen under the stars.
Moviegoers are invited to bring their own lawn chairs and blankets to enjoy the screening in this unique outdoor setting. Attendance is free and open to the public, and moviegoers are encouraged to show up early to stake a sweet spot and grab some snacks.  Tickets are not required to attend.
Friday, July 14, 2017 ~ The Incredibles
Friday, August 25, 2017 ~ Moana
Doors open at 6:00pm
Live DJ set with DJ Chantz at 6:30pm – 8:30pm
Movie starts at 8:30pm
Prizes, giveaways, & snacks!
To see a recap of the recent screening of The LEGO Batman Movie, please CLICK HERE.
6.  POP-UP USED BOOK SALE – WESTWOOD LIBRARY

Friends of Westwood Library
are proud to host our very first
POP UP BOOK SALE!
Don't want to wait three months for the next big one? Fully loaded carts of carefully curated books (including kids books) will be for sale at the usual GREAT PRICES!
THIS SATURDAY
July 15th
11 a.m. to 2 p.m.
In front of the library
1246 Glendon Avenue
Los Angeles, CA 90024
Come and purchase some wonderful books for family and friends!  We have a great collection of Coffee Table books, Children Books and DVD's.  We'll also be selling bookplates to add to the collection of our Library books.
This is a great way to increase your personal library while raising money for your public library.
Visit our website at
Friends of Westwood Library
7.  SB 649 – CELL TOWER LEGISLATION

SB 649 – the bill eliminating local control over large cell towers – passed unanimously in another Assembly committee last week.  Assuming passage in the Appropriations Committee, it will then go to the full Assembly for a vote, likely in July.
Christina Spitz, Pacific Palisades Community Council Chair/ President Emeritus, submitted the following to the Palisades Post at the request of the editor:
To the Post:
Some committee members claimed to be concerned with local control – and the bill's author promised to somehow strengthen local governments' ability to regulate for design and location – yet SB 649 passed with no such amendments.
Members were clearly more swayed by the telecom lobby than by the extensive opposition, including major newspapers (e.g., the LA Times and its venerable columnist George Skelton); respected statewide organizations such as the League of CA Cities and the American Planning Association; LA Mayor Garcetti, Councilmembers Bonin and Koretz and numerous other public officials; and over 200 cities and counties (including LA County).
SB 649 is an unprecedented, unnecessary attempt to strip local governments of control; they will be required to allow the telecom industry to install large towers on public property (including parks and arguably even schools) for a minimal fee (market rate leasing is prohibited); and local discretionary authority will be eliminated (including in residential zones), resulting in thousands of new poles with refrigerator-sized equipment installed next to homes and in other sensitive areas with no public input.
It appears that only a huge public outcry or a Governor's veto can now stop this bad bill.  Simply put:  "People should not be forced to stare at ugly refrigerators dangling outside their homes." (G. Skelton)
8.  UPCOMING COMMUNITY EVENTS

LAPD Street Carnival –  The West LAPD is holding a Street Carnival on July 14, 15 and 16th.  The event will be held on Pico between Barrington & Bundy.
This event is going to benefit our at risk youth in WLA and support some much needed station improvements and equipment for your hard working men and women who Protect and Serve your community.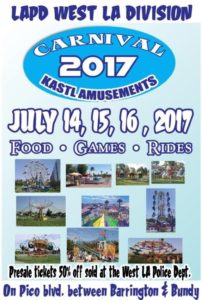 Jewish Film Festival – Leo Baeck Temple, 1300 N. Sepulveda. Free parking.  Tuesday, July 18, at 7 pm.  $5.00 per ticket. Purchase at door. Light refreshments.
Come join us to watch "Infidel" – A hilarious, ribald, satirical film that will have the audience laughing out loud!
The set up of the movie. Mahmud (wonderful Iranian comic actor Omid Djalili) is a loving husband, doting father and something of a "relaxed" Muslim. He may not be the most observant, but in his heart he is a true Muslim. After his mother's death, Mahmud finds his birth certificate which reveals that he was adopted at birth and HE'S JEWISH.
He turns to Lenny (Richard Schiff of the WEST WING), a drunken Jewish cab driver to help him with this life crisis. So many plot twists so much to laugh at and so much fun. A satirical send up of almost every group and religion.
LAPD National Night Out – Tuesday, August 1st, 5:00 to 9:00 PM at Stoner Park Recreation Center (1833 Stoner Ave., 90025)
National Night Out is a community police-awareness-raising event in the United States, which is annually held on the first Tuesday in August.  National Night Out was created to increase awareness about police programs in communities.
For more information, click here:
National Night Out 2017
For further information, call West Los Angeles Community Police Station, Community Relations Office:  310-444-0730
9.  HWPOA COMMUNICATION AND AD POLICY
Please direct all comments, questions or issues regarding the Holmby News to hwpoa@aol.com.
Ads for plumbers, housekeepers, garage sales, etc. will be posted in the weekly News. Emergency situations such as coyote sightings, lost and found pets, traffic alerts and similar situations will continue to be published during the week as received.
When placing an ad, please send to hwpoa@aol.com for the Holmby News moderator to review.  Responses to ads should be directed to the ad placer, not to HWPOA.
10.  RESIDENT ADS
BABYSITTER AND/OR MOTHER'S HELPER AVAILABLE
I am a 14-year-old girl seeking work as a babysitter this summer, and possibly continuing into the school year. I am going into 8th grade at Wildwood School and am a straight-A student. I have been working as a counselor at elementary school summer camp, and I love being with kids. I live in the neighborhood, so if you're interested please contact me. Thanks!
-Ella K.
(310)-592-5326
ellak22@wildwood.org
11.  HWPOA CONTACT INFORMATION
HOLMBY WESTWOOD PROPERTY OWNERS ASSOCIATION, INC.
P.O. Box 49180
Los Angeles, CA 90049
310-470-1785
Email: hwpoa@aol.com
Web site: www.holmbywestwoodpoa.org
Pay Membership Dues: https://squareup.com/store/hwpoa

You Are Invited . . .
To attend our monthly Board Meetings*
To let us know your concerns about our community and your ideas about how we might work to improve it
To become involved in our Association.
*Board Meetings are usually held the second Tuesday of each month at 8:00 pm at Belmont Village (10475 Wilshire Blvd.).  Please confirm prior to attending.