HOLMBY NEWS



June 30, 2017
From the Holmby Westwood Property Owners Association, serving the Holmby Westwood community since 1960.
1.  HWPOA's 4th of July Parade & Picnic
2.  LAPD Crime Report
3.  Garbage Collection – Holiday Schedule
4.  Westwood Library – July Happenings
5.  Metro Purple Line Extension
6.  Hazard Mitigation Plan Survey
7.  Where to See Fireworks
8.  Westwood Village  – Cinema Under the Stars
9.  Century City Street Closures – July 3-5
10.  HWPOA Communication and Ad Policy
11.  Resident Ads
12.  HWPOA Contact Information
1.  HWPOA'S 4th OF JULY PARADE & PICNIC
HWPOA's 4th of July Parade & Picnic
is almost here!
Food – Music – Bouncers – Arts & Crafts
and much more!
Decorate your scooters and wagons, your kids and grandkids, and your homes, especially if you're along the Loring/ Comstock parade route!  Celebrate the holiday and the treasure of a neighborhood we live in together.
We will kick off at
10:00 am on TUESDAY, July 4th
at Warner Ave. School (on Loring at Holmby)
Be sure to thank our sponsors who are spending their holiday with our neighborhood:
ACS Security: Hot Dog grilling
UCLA Health: Our Platinum Sponsor
Ralphs: Our Gold Sponsor
City Target: Face Painting and Lemonade
NEW THIS YEAR:
Whole Foods: the team at Whole Foods will offer free grocery giveaways and coupons through its 365 Guessing Game
Our local Realtors, each have sponsored the awesome kids activities:
The "Jordana Leigh" Obstacle Course 1
The "Jim Bremner" Obstacle Course 2
The "Larry Young" Toddler Mickey Park Learning Town
The "Jane Gavens" Arts and Crafts Tent
The "Mark Rogo" DJ Booth to fill the park with jamming music
The "Caron Schwartz" Cookie Tent
Your parade leaders: Esther Magna, Caron Schwartz, Rachelle Guerin, Rochelle Glucksman, Randie Kleinman, Katherine Meyer, Jessie Ezor. Please email Esther with any questions at emagna@msn.com.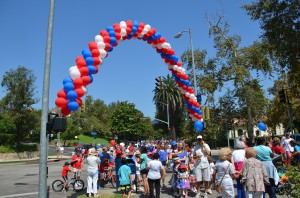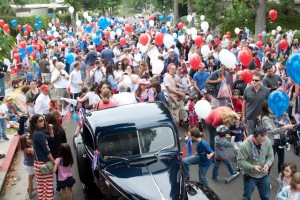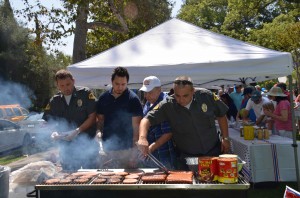 2.  LAPD CRIME REPORT

VEHICLE, STOLEN
Incident #: 170812058
900 BLOCK MALCOLM AV  |  6/25/2017 @ 11:00 AM
THEFT-GRAND (plain theft-grand) $950.01 & over
Incident #: 170812159
1000 BLOCK MANNING AV  |  6/5/2017 @ 5:55 PM
You may access crime mapping at www.crimemapping.com to review recent crimes in your area. Sign up to receive alerts when crime is reported in your neighborhood.
E-Policing: http://www.lapdonline.org/e_policing
EMERGENCY: 911
NON-EMERGENCY: 1-877-275-5273
All other City Services: 311
Christopher Ragsdale, Senior Lead Officer
West Los Angeles Community Police Station
Office: 310-444-0741
Email: 26690@lapd.lacity.org
Website: www.lapdonline.org
3.  GARBAGE COLLECTION – HOLIDAY SCHEDULE

Next week is the Fourth of July holiday, which means our collections will be postponed by one day from Tuesday, July 4th through Friday, July 7. If your collection day is normally Tuesday, your collection day will be Wednesday. If your collection day is normally Wednesday, your collection day will be Thursday… etc. Please note that Monday's collection schedule is not affected.
You can learn more on our website at www.lacitysan.org or you can call our 24-hour Customer Care Center at 1-800-773-2489. That's the fastest way to get questions answered.
We wish you a safe and festive Fourth of July holiday weekend!
LA Sanitation
www.lacitysan.org
4.  WESTWOOD LIBRARY – JULY HAPPENINGS

The Westwood Branch Library has a busy month of events and activities for adults, teens and children.  A few of the events include Poetry Open Mic, UCLA Memory Training, Author Talk, French Conversation, and childrens' storytime.
For a complete list of upcoming events, please click here:
https://www.lapl.org/branches/westwood
5.  METRO PURPLE LINE EXTENSION

On Thursday, June 22, 2017 Metro held a draft public hearing for the Draft Supplemental Environmental Impact Statement (SEIS) for the Purple Line Extension at the Roxbury Park Community Center. Thank you to all who attended and provided comments during the hearing. In case you were not able to attend the public hearing, the presentation is available on the Metro Purple Line Extension, Draft SEIS page.
As a reminder, all questions and comments will be formally addressed in the Final SEIS.
Comments will be accepted through Monday, July 17, 2017 via:
Email 
purplelineext@metro.net
US Mail 
Eric Geier
1 Gateway Plaza, MS 99-13-1
Los Angeles, CA 90012
Draft SEIS Presentation – CLICK HERE
6.  HAZARD MITIGATION PLAN SURVEY

The City of Los Angeles is updating the Local Hazard Mitigation Plan (LHMP) to prepare for disasters and is seeking public input on the Draft Document. The LHMP is a plan to to reduce injuries and losses from disasters and ensure that the critical services and facilities of the City will continue to function after a disaster.
Angelenos know LA better than anyone else, so we want to hear from you! You can provide feedback on the Draft Local Hazard Mitigation Plan at: http://www.emergency.lacity.org/hazard-mitigation-plan
We've also developed a survey for residents and business owners to share what concerns them the most about potential disasters. Take this opportunity to let us know what concerns you before, during, or after a disaster! You can take the LHMP survey at: https://www.surveymonkey.com/r/CityofLosAngelesLHMPSurvey
Los Angeles has about 284 sunny days each year, but we do face the potential for earthquakes, floods, fires, hazardous materials incidents, power outages, infrastructure failure, transportation accidents, and terrorism. Your valuable input and feedback helps us make LA safer against these hazards and threats. Thank you!
7.  WHERE TO SEE FIREWORKS

Are you looking to catch a July 4th fireworks show, parade, picnic or festival this year around Los Angeles County? Your options are limitless.
Check out the listings below of nearby Independence Day celebrations and weekend events for 2017.
Where to See Fireworks – CLICK HERE
8.  WESTWOOD VILLAGE – CINEMA UNDER THE STARS

Cinema Under the Stars: The LEGO Batman Movie – Friday, June 30 in the surface parking lot located at 1031 Broxton Ave. next to Barney's Beanery.  With the Westwood Village Fox Theatre in the background, fans can enjoy films completely free on a big screen under the stars.
Moviegoers are invited to bring their own lawn chairs and blankets to enjoy the screening in this unique outdoor setting. Attendance is free and open to the public, and moviegoers are encouraged to show up early to stake a sweet spot and grab some snacks.  Tickets are not required to attend.
Friday, June 30, 2017 ~ The LEGO Batman Movie
Friday, July 14, 2017 ~ The Incredibles
Friday, August 25, 2017 ~ Moana
Doors open at 6:00pm
Live DJ set with DJ Chantz at 6:30pm – 8:30pm
Movie starts at 8:30pm
Prizes, giveaways, & snacks!
9.  CENTURY CITY STREET CLOSURES – JULY 3-5

The L.A. Freedom Festival features the unveiling of the Freedom Sculpture on Santa Monica Blvd.  Details of the closure for the event are below. The event on July 4 is free and open to the public. Featuring musical performances and fireworks.
Century Park East will be closed July 3 at 8 pm.
Santa Monica Blvd. will be closed all day July 4 through 6 am on July 5.
The sculpture is a gift to the City of Los Angeles from the Farhang Foundation on behalf of the Iranian community—modeled after the famous Cyrus Cylinder of King Cyrus the Great of Persia.
More information can be found at:
http://www.freedomsculpture.org/
10.  HWPOA COMMUNICATION AND AD POLICY
Please direct all comments, questions or issues regarding the Holmby News to hwpoa@aol.com.
Ads for plumbers, housekeepers, garage sales, etc. will be posted in the weekly News. Emergency situations such as coyote sightings, lost and found pets, traffic alerts and similar situations will continue to be published during the week as received.
When placing an ad, please send to hwpoa@aol.com for the Holmby News moderator to review.  Responses to ads should be directed to the ad placer, not to HWPOA.
11.  RESIDENT ADS
SEEKING SPRINKLER REPAIR PERSON
We would appreciate a referral to a person who can repair our outdoor sprinkler system. If you know of someone who is honest and capable, could you please contact us?
Thank you.
K.B.
sunkab@earthlink.net
310.497.1876
12.  HWPOA CONTACT INFORMATION
HOLMBY WESTWOOD PROPERTY OWNERS ASSOCIATION, INC.
P.O. Box 49180
Los Angeles, CA 90049
310-470-1785
Email: hwpoa@aol.com
Web site: www.holmbywestwoodpoa.org
Pay Membership Dues: https://squareup.com/store/hwpoa

You Are Invited . . .
To attend our monthly Board Meetings*
To let us know your concerns about our community and your ideas about how we might work to improve it
To become involved in our Association.
*Board Meetings are usually held the second Tuesday of each month at 8:00 pm at Belmont Village (10475 Wilshire Blvd.).  Please confirm prior to attending.