HOLMBY NEWS



June 23, 2017
From the Holmby Westwood Property Owners Association, serving the Holmby Westwood community since 1960.
1.  HWPOA's 4th of July Parade & Picnic
2.  LAPD Crime Report
3.  Westwood Horizons – Victory for Seniors
4.  Century City Street Closures – July 3-5
5.  Conserve Electricity During Heat Wave
6.  Upcoming Community Events
7.  HWPOA Communication and Ad Policy
8.  Resident Ads
9.  HWPOA Contact Information
1.  HWPOA'S 4th OF JULY PARADE & PICNIC
HWPOA's 4th of July Parade & Picnic
is almost here!
Food – Music – Bouncers – Arts & Crafts
and much more!
Decorate your scooters and wagons, your kids and grandkids, and your homes, especially if you're along the Loring/ Comstock parade route!  Celebrate the holiday and the treasure of a neighborhood we live in together.
We will kick off at
10:00 am on TUESDAY, July 4th
at Warner Ave. School (on Loring at Holmby)
Be sure to thank our sponsors who are spending their holiday with our neighborhood:
ACS Security: Hot Dog grilling
UCLA Health: Our Platinum Sponsor
Ralphs: Our Gold Sponsor
City Target: Face Painting and Lemonade
NEW THIS YEAR:
Whole Foods: the team at Whole Foods will offer free grocery giveaways and coupons through its 365 Guessing Game
Our local Realtors, each have sponsored the awesome kids activities:
The "Jordana Leigh" Obstacle Course 1
The "Jim Bremner" Obstacle Course 2
The "Larry Young" Toddler Mickey Park Learning Town
The "Jane Gavens" Arts and Crafts Tent
The "Mark Rogo" DJ Booth to fill the park with jamming music
The "Caron Schwartz" Cookie Tent
Your parade leaders: Esther Magna, Caron Schwartz, Rachelle Guerin, Rochelle Glucksman, Randie Kleinman, Katherine Meyer, Jessie Ezor. Please email Esther with any questions at emagna@msn.com.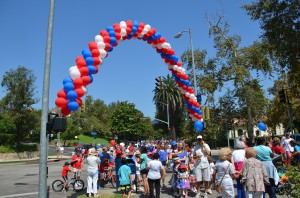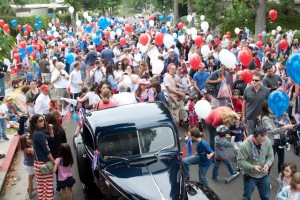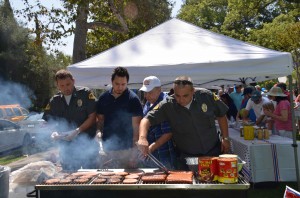 2.  LAPD CRIME REPORT

CRIMEMAPPING REPORT:
BURGLARY FROM VEHICLE
Incident #: 170811744
800 BLOCK THAYER AV  |  6/19/2017 @ 11:19 PM
PREVENT KNOCK KNOCK CRIMES
We want to remind our homeowners how to respond to a ring or a knock.
DO NOT open the door for anyone you cannot identify as an expected guest. Take special care not to quickly open the door when you are expecting a guest or package. First, identify the person at the door through camera or phone system or by talking to them through the door.
DO verbally respond with "We cannot come to the door right now."  Burglaries, although rare, do often start with a knock at the front door.
DO use your alarm, no matter how short a time period you are out. Most burglaries happen in minutes, start to finish. Your alarm should have sensors on all doors and windows, first and second floors, and include interior motion sensors.
We have received occasional reports from members who felt harassed by door to door sales. Please save yourself the discomfort of an aggressive salesperson (from magazines to security services) by keeping the door closed. Your personal space should be respected, not invaded.
3.  WESTWOOD HORIZONS – VICTORY FOR SENIORS

From the Westwood-Century City Patch:
A group of Westwood retirement home residents who were fighting a plan by the facility's owner to convert it to a licensed assisted living community declared victory Tuesday after finding out it has been designated a residential hotel by a city department.
The designation, which was made last week by the Housing and Community Investment Department, could severely limit Westwood Horizon's owner, Watermark Retirement Communities, from moving forward with a plan to force residents to move rooms or to a hotel during renovation of the property.
For the complete story, please click here:
Westwood Horizons Update
4.  CENTURY CITY STREET CLOSURES – JULY 3-5

The L.A. Freedom Festival features the unveiling of the Freedom Sculpture on Santa Monica Blvd.  Details of the closure for the event are below. The event on July 4 is free and open to the public. Featuring musical performances and fireworks.
Century Park East will be closed July 3 at 8 pm.
Santa Monica Blvd. will be closed all day July 4 through 6 am on July 5.
The sculpture is a gift to the City of Los Angeles from the Farhang Foundation on behalf of the Iranian community—modeled after the famous Cyrus Cylinder of King Cyrus the Great of Persia.
More information can be found at:
http://www.freedomsculpture.org/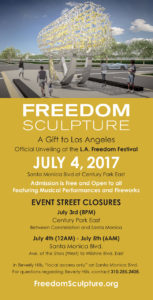 5.  CONSERVE ELECTRICITY DURING HEAT WAVE

Residents are urged to make an extra effort to conserve electricity during late afternoon hours, when air conditioners tend to be used most.  A Flex Alert is issued when the electrical grid is "under stress," generally from increased power usage due to hot weather.
Residents are encouraged to take steps such as:
setting thermostats at 78 degrees or higher;
close drapes and use fans to cool rooms;
turn off unnecessary lights and appliances; and
delay using major appliances until early in the morning or late in the evening.
6.  UPCOMING COMMUNITY EVENTS

L.A. Sanitation Open House  (aka Garbage Truck Day) – Saturday, June 24 from 9:00 AM to 2:30 PM at the West L.A. District Yard located at 2027 Stoner.  Come join the dynamic duo "Mr. Recycle" and sidekick "Robo Blue" as they jump into action to serve family fun, food and prizes for kids.
If you're interested in recycling…
if your kids would love to operate the controls of our collection trucks…
if you want photos with our mascots…
if you'd enjoy a free lunch…
if you're ready to adopt a free plant or tree…
if you love music and family-friendly fun…
if you want to learn more about LA Sanitation's services…
then this event is for you!
It's a great opportunity for families to learn about proper recycling techniques as well as other Earth-friendly tips.  Kids can operate the controls on our trucks and interact with our mascots. All are welcome, and there is no fee for admission.  Food is complimentary, while supplies last.  For more information about this event, please CLICK HERE.
Pre-4th of July Concert @ Westwood Library – Sunday, June 25th at 2:30 PM at Westwood Library (1246 Glendon Ave.).  The second concert in the Library's 2017 season features the BRASS PACIFICA QUINTET, back by popular demand, with a potpourri of American popular and patriotic favorites, by composer George Gershwin, Aaron Copland, John Philip Sousa, George M. Cohan, plus Western and other film themes, and the Armed Forces Tribute honoring both veterans and current servicemen and women. Fun for the whole family!
Admission is FREE, with FREE parking at the library.  Library garage and doors open at 2:00 p.m.  Concerts last approximately one hour, with no intermission.
After the concert, meet the musicians and enjoy a complimentary reception hosted by NAPA VALLEY GRILLE and the Friends of Westwood Library.
Download the June 25, 2017 concert flyer at: http://www.lamusicalsalon.org/LibraryConcertFlyer6-25-2017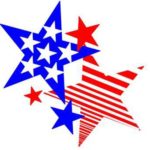 Cinema Under the Stars: The LEGO Batman Movie – Friday, June 30 in the surface parking lot located at 1031 Broxton Ave. next to Barney's Beanery.  With the Westwood Village Fox Theatre in the background, fans can enjoy films completely free on a big screen under the stars.
Moviegoers are invited to bring their own lawn chairs and blankets to enjoy the screening in this unique outdoor setting. Attendance is free and open to the public, and moviegoers are encouraged to show up early to stake a sweet spot and grab some snacks.  Tickets are not required to attend.
Friday, June 30, 2017 ~ The LEGO Batman Movie
Friday, July 14, 2017 ~ The Incredibles
Friday, August 25, 2017 ~ Moana
Doors open at 6:00pm
Live DJ set with DJ Chantz at 6:30pm – 8:30pm
Movie starts at 8:30pm
Prizes, giveaways, & snacks!
7.  HWPOA COMMUNICATION AND AD POLICY
Please direct all comments, questions or issues regarding the Holmby News to hwpoa@aol.com.
Ads for plumbers, housekeepers, garage sales, etc. will be posted in the weekly News. Emergency situations such as coyote sightings, lost and found pets, traffic alerts and similar situations will continue to be published during the week as received.
When placing an ad, please send to hwpoa@aol.com for the Holmby News moderator to review.  Responses to ads should be directed to the ad placer, not to HWPOA.
8.  RESIDENT ADS
HIGH SPEED INTERNET
We live on Lindbrook. We are struggling to find reliable high speed internet in our home.
Frontier was extremely slow.  Spectrum is very fast but goes out often, sometimes the majority of the weekend.  Please email me if you know of other internet providers with whom you've had positive experiences.  I'm Jeff at drjhirsch@earthlink.net
——————————————————————
PART-TIME HOUSEKEEPER AVAILABLE
Our dear friend and former housekeeper of 37 years has returned from the Philippines and is looking for part time work. We have downsized and our children are grown so we do not need her help full time.  She is an American citizen with excellent driving record.  She is a great cook and very good with pets.  She would work well with someone needing help to get to appointments or with light housekeeping. She is also wonderful with babies and children.  Her contact is 310 612 4968.  Of course we will provide excellent references. sbzimm1@gmail.com.
9.  HWPOA CONTACT INFORMATION
HOLMBY WESTWOOD PROPERTY OWNERS ASSOCIATION, INC.
P.O. Box 49180
Los Angeles, CA 90049
310-470-1785
Email: hwpoa@aol.com
Web site: www.holmbywestwoodpoa.org
Pay Membership Dues: https://squareup.com/store/hwpoa

You Are Invited . . .
To attend our monthly Board Meetings*
To let us know your concerns about our community and your ideas about how we might work to improve it
To become involved in our Association.
*Board Meetings are usually held the second Tuesday of each month at 8:00 pm at Belmont Village (10475 Wilshire Blvd.).  Please confirm prior to attending.