HOLMBY NEWS



December 23, 2016
From the Holmby Westwood Property Owners Association, serving the Holmby Westwood community since 1960.
1.  Holiday Trash Collection and Tree Recycling
2.  Generator Warning – Carbon Monoxide
3.  Happy Holidays from HWPOA
4.  Plaza La Reina – Friends & Family Discount
5.  HWPOA Communication and Ad Policy
6.  Resident Ads
7.  HWPOA Contact Information
1.  HOLIDAY TRASH COLLECTION AND TREE RECYCLING

From the City of L.A. Sanitation:
Holiday Collection
The City of Los Angeles will recognize December 26th & January 2nd as holidays. Therefore we will postpone collection services by one calendar day. Due to the one day postponement, the collection of containers will resume as follows: the holidays are observed on Monday's, so Monday collection will occur on Tuesday, Tuesday collection will occur on Wednesday, and so on and so forth. Friday collection will occur on Saturday for those two holiday weeks only.
Christmas Tree Recycling
LA Sanitation has curbside collection for Christmas trees. If your Christmas tree is too big to cut and place inside the green waste bin, simply place the tree next to your green waste bin on collection day. Drop-off locations are available as well.
Recycle your Christmas tree in the green bin:
REMOVE all ornaments, decorations, tinsels and stand from the tree.
CUT the tree pieces before putting them inside the green bin for regular pick-up on collection day.
PLACE the tree pieces inside the green bin.
Collected Christmas trees will be recycled into compost and mulch that is available to residents for free.
Recycling of holiday items
Holiday wrapping paper, cards, cartons and cardboard boxes can all go in the recycling bin.
Styrofoam® and other expanded polystyrene products, plastics and gift boxes are also recyclable and should be placed in the blue bin.
Bows, ribbons, and tinsel cannot be recycled.
Wreaths and garland can be placed in the green bin after you've removed the decorations.
If you've received new electronics for the holidays, the old ones can be dropped off at a SAFE Center for recycling.  It is illegal to place household hazardous waste, such as electronics (i.e. televisions and computers) and batteries into the collection bins. Please take those items to one of seven S.A.F.E. Centers for safe disposal and recycling.
2.  GENERATOR WARNING – CARBON MONOXIDE

A homeowner who used his back-up generator during the recent power outage has the following warning:
The longer a back-up generator works, the more carbon monoxide may build up in the house, as evidenced by our detectors sounding.  If you have a generator, please be sure to install carbon monoxide detectors throughout your home.
3.  HAPPY HOLIDAYS FROM HWPOA
The Holmby Westwood Board of Directors would like to wish everyone a happy holiday season!  Thank you for your support of HWPOA!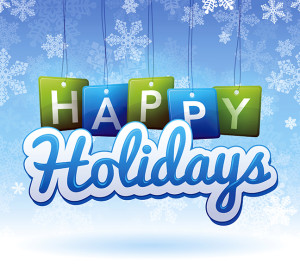 4.  PLAZA LA REINA – FRIENDS & FAMILY DISCOUNT

Plaza La Reina is a 44-unit luxury property for corporate and leisure guests, located in the heart of Westwood.  They have offered a special "friends and family" introductory rate for members of HWPOA – $300 per night.  Just mention "Holmby" when making your reservation.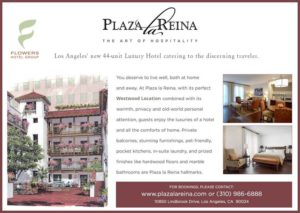 5.  HWPOA COMMUNICATION AND AD POLICY
Please direct all comments, questions or issues regarding the Holmby News to hwpoa@aol.com.
Ads for plumbers, housekeepers, garage sales, etc. will be posted in the weekly News. Emergency situations such as coyote sightings, lost and found pets, traffic alerts and similar situations will continue to be published during the week as received.
When placing an ad, please send to hwpoa@aol.com for the Holmby News moderator to review.  Responses to ads should be directed to the ad placer, not to HWPOA.
6.  RESIDENT ADS
SEEKING GENERATOR RECOMMENDATIONS
Since power outages seem to be happening with more frequency, I am looking for a good generator for our home.  If you can suggest a type of generator to purchase, please let me know.
Thanks,
Justin
coit.justin@gmail.com
——————————————————————
SEEKING PAINTER
We are looking for an inside and outside painter with knowledge, experience, integrity and quality workmanship (hopefully this is not too much to ask in the 21st century).
Many thanks for your recommendations.
Marshal at 424 273 1024
7.  HWPOA CONTACT INFORMATION
HOLMBY WESTWOOD PROPERTY OWNERS ASSOCIATION, INC.
P.O. Box 49180
Los Angeles, CA 90049
310-470-1785
Email: hwpoa@aol.com
Web site: www.holmbywestwoodpoa.org