HOLMBY NEWS



September 30, 2016
From the Holmby Westwood Property Owners Association, serving the Holmby Westwood community since 1960.
1.  Relaxed Parking During the Jewish Holidays
2.  Register to Vote
3.  Dog Park at Westwood Rec. – Community Meeting
4.  HWPOA Board Meeting
5.  Westwood Library – October Events and Calendar
6.  Upcoming Community Events
7.  HWPOA Communication and Ad Policy
8.  Resident Ads
9.  HWPOA Contact Information
1.  RELAXED PARKING DURING THE JEWISH HOLIDAYS
The Council Office has notified us that parking will be relaxed in our community during the upcoming Jewish holidays.  For a complete list of dates and locations where the parking rules will be relaxed, please CLICK HERE.
We wish you a happy and sweet New Year! L' Shanah Tovah!
2.  REGISTER TO VOTE

While the presidential race may be dominating the headlines, there are major statewide races and ballot measures that could shape everyday life in California.   For more information about the election and voter registration, please CLICK HERE.
Voter Deadlines for the Nov. 8 Election
Early Voting/Absentee Voting by mail begins
Oct. 10
Voter Registration deadline – last day to register to vote by mail or in person
Oct. 24
Absentee Ballot Request deadline: last day to request a vote-by-mail ballot
Nov. 1
Absentee Ballot return deadline : Last day to mail absentee ballots
Nov. 8
ELECTION DAY!
Nov. 8
3.  DOG PARK AT WESTWOOD REC. – COMMUNITY MEETING
The City is holding a community meeting to provide input on the design of a new Off-Leash Dog Area at the Westwood Recreation Center: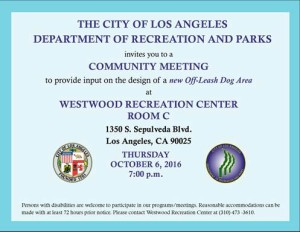 4.  HWPOA BOARD MEETING
On Monday, October 10 at 8:00 PM, the HWPOA Board of Directors will hold its monthly meeting at Belmont Village, 10475 Wilshire Blvd. The meeting was moved from the regular Tuesday evening due to a Jewish holiday.  Members of the community are welcome to attend, though space is limited. Please let us know if you plan to attend.  Email Dana at hwpoa@aol.com
5.  WESTWOOD LIBRARY – OCTOBER EVENTS AND CALENDAR

October is a busy month at the Westwood Branch Library.  For a complete list of events and activities, please CLICK HERE.
Concert Series @ Westwood Library – Sunday, Oct. 9, 2016 at 2:30 PM at Westwood Library (1246 Glendon).  Join us for the third concert in the 2016 Season of our popular Concert Series @ Westwood Library, featuring the Fiato String Quartet, Westwood Library's Quartet in Residence. We'll be upstairs in the library on a Sunday afternoon when the library is not open for regular business.
All concerts are FREE, with free parking at the library.  Garage and library doors open at 2:00 p.m.  The FIATO STRING QUARTET will present two wonderful, and wonderfully different, quartets:
Beethoven – String Quartet No. 2 in G Major, Op. 18, no. 2
Prokofiev – String Quartet No. 2 in F Major, Op. 92
After the concert, meet the musicians and enjoy a complimentary reception hosted by TENDER GREENS and the Friends of Westwood Library.
For more information about this event, please CLICK HERE.
6.  UPCOMING COMMUNITY EVENTS

Book Event – Friday, Oct. 7 at 7:00 PM at The Bel Air (formerly the Bel Air Bar & Grill), 662 N. Sepulveda.  This event focuses on the book, Echoes of Tattered Tongues: Memory Unfolded. The audiobook is now out on Audible.com and iTunes. You can find more info on the book, along with the trailer, at www.polww2.com/AboutEchoes
This FREE event brings the book's author, John Guzlowski, together with the actor, Jon Brandi, who narrated the audiobook. They'll do readings from the book, and discuss their respective approaches to the work. A rare glimpse into the process of moving from print to audio! Before or after the event, enjoy dinner at The Bel Air (at your own expense).
RSVP REQUIRED by Thursday, Oct. 6: info@aquilapolonica.com or 310-470-0770
SPA Overboard Festival – October 7-9, 2016 at  St. Paul the Apostle (Selby at Ohio).  The Fall Festival is almost here! Mark your calendar for for all the activities and events that you don't want to miss. There's dodgeball, talent show, basketball,… and can we say LIVE! Don't want to miss that!  Rides, game booths, food, bake sale and so much more!  For more information, please click here: https://www.spapwc.com/festival/
Green Living Workshops – Thursdays: Oct. 13, 20 & 27, 2016 from 7-8:30 PM at Belmont Village (10475 Wilshire).  Do you feel threats to our environment are too critical to ignore but your individual behavior is too insignificant to make an impact? What if you could learn effective solutions you could immediately implement? You can, attend a FREE Green Living Workshop!  For more information, please click here: http://www.sustainableworks.org/
Fun Fall Activities – Fall is here and that means it's time for apple picking, pumpkin contests, Oktoberfest, Knott's Scary Farm and so much more.  The Westwood-Century City Patch provides the following list of activities:  CLICK HERE.
7.  HWPOA COMMUNICATION AND AD POLICY
Please direct all comments, questions or issues regarding the Holmby News to hwpoa@aol.com.
Ads for plumbers, housekeepers, garage sales, etc. will be posted in the weekly News. Emergency situations such as coyote sightings, lost and found pets, traffic alerts and similar situations will continue to be published during the week as received.
When placing an ad, please send to hwpoa@aol.com for the Holmby News moderator to review.  Responses to ads should be directed to the ad placer, not to HWPOA.
8.  RESIDENT ADS
SEEKING TRASH CONTAINER HELP
I am looking for someone to bring in TRASH CONTAINERS after pickup on Wednesdays. I live on Westholme Ave. near Malcolm.
Good after school job for teenager.  Contact   310 475 7546
——————————————————————
SEEKING HANDYMAN
We'd love to have any recommendations for a great handyman.
Thank you.
Cheryl Petersen
Email:  ckpandrhl@Verizon.net
 .
——————————————————————
SPRINT CELL PHONE SIGNAL IN WESTWOOD
I would like to ask neighbors who are Sprint's customers what they think about the cellular phone reception and signal strength in Westwood and the valley. Would they recommend switching to Sprint?  Thanks for the input.
pchantra@yahoo.com
——————————————————————
SEEKING NANNY SHARE
We have a friend on the other side (east) of Beverly Glen who needs a nanny/nanny share from Jan. 10th , for about 6 months,  from 8:00 am – 4: 00 pm Monday to Friday. If interested, please call Emily for more info at 310-446-8434 or email klnicole561@gmail.com for rate and specific responsibilities.
——————————————————————
DESERT TRIP EVENT – TICKETS FOR SALE
We have 4 great tickets for October 14 – 16, 2016 and a premium parking pass for Desert Trip event in Palm Springs area that we must sell.
Prime seats:  2 tickets for for Section 208, Row E and 2 tickets for Section 210, Row G.
Cochella Music event with: Bob Dylan, Paul McCartney, the Rolling Stones, the Who, Neil Young and Pink Floyd's Roger Waters
Best Offer accepted for these great tickets.
If interested, call Marion Solomon, (310) 475-8300.
——————————————————————
SEEKING PART-TIME CAREGIVER
We are looking for a part-time care-giver for a very large 46-year-old man. If you have a recommendation for an agency or individual, please call Andy Smith at 310-470-8343 or email me at ablsmith@dock.net. Many thanks.
——————————————————————
HIGH HOLIDAYS AT UCLA
If you, or someone you know, are looking to go a service for the High Holidays in the West LA area, our son-in-law, Rabbi Jan Goldstein, leads a service at UCLA's Ackerman Grand Ballroom  that is filled with much heart, soul and song. There is truly nothing else like it. Everyone is welcome and no one is turned away for lack of funds.
Matthew and Marion Solomon
(310) 475-8300
drmarionsolomon@AOL.com
9.  HWPOA CONTACT INFORMATION
HOLMBY WESTWOOD PROPERTY OWNERS ASSOCIATION, INC.
P.O. Box 49180
Los Angeles, CA 90049
310-470-1785
Email: hwpoa@aol.com
Web site: www.holmbywestwoodpoa.org