HOLMBY NEWS



May 27, 2016
From the Holmby Westwood Property Owners Association, serving the Holmby Westwood community since 1960.
1.  HWPOA's July 4th Parade and Picnic
2.  Memorial Day Weekend – Safety and Fun
3.  V.A. Cemetery – Memorial Day Event
4.  Lawn Bowling at Holmby Park
5.  Upcoming Community Events
6.  HWPOA Communication and Ad Policy
7.  Resident Ads
8.  HWPOA Contact Information
1.  HWPOA's JULY 4TH PARADE AND PICNIC
SAVE THE DATE
On Monday, July 4th, 2016 HWPOA will be holding our Annual July 4th Parade and Picnic again!  Join your neighbors and friends for a day of fun, food and activities.  Stay tuned more more details!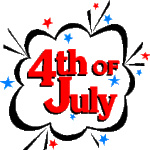 2.  MEMORIAL DAY WEEKEND – SAFETY AND FUN

The HWPOA Board of Directors would like to wish everyone a safe holiday weekend.
AAA has created a list of safety tips for travel over the holiday weekend.  For more information, please click here.
For a guide to Memorial Day weekend events around Los Angeles, please click here.
3.  V.A. CEMETERY – MEMORIAL DAY EVENT

The VA Cemetery invites everyone to its 2016 Memorial Day event "Honoring Those Who Have Borne the Battle" – this coming Monday, May 30th, starting at 10:30 am.  This event is open to the public, and admission and parking are FREE! There will also be a flyover by the Condor Squadron during the event, http://www.condorsquadron.org/
For more information about this event, please click the flyer below.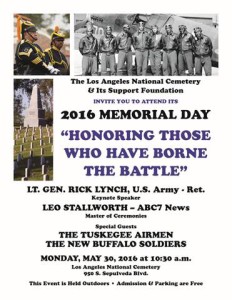 4.  LAWN BOWLING AT HOLMBY PARK

June is Holmby-Westwood Neighbor Month.  Every Tuesday, Thursday and Saturday, the Holmby Park Lawn Bowling Club is offering a free one hour private lesson to all members of the Association, starting at 10:30 AM in Holmby Park.
Just make a reservation with me, Philip Fox and come on over and learn a wonderful activity and sport.
Philip Fox
310-273-7776 or
pmurrayf@aol.com
5.  UPCOMING COMMUNITY EVENTS

Jazz Reggae Festival –  Monday, May 30 at UCLA.  Doors open at 11:00 AM.  Event hours 12-6:00 PM.  Jazz Reggae Festival has been an integral part of the UCLA and LA communities for the past 29 years. In honor of the festival's 30th anniversary, we are celebrating three decades of good vibes, jammin' music, and cultural enrichment with a one-day festival under the Los Angeles sun.  This year, Jazz Reggae Festival is returning to its roots, presenting headliners from the genres of jazz and reggae accompanied by a curated selection of talented student bands.
For more information and to purchase tickets, please click here:
http://www.jazzreggaefest.com/
Westwood Library Used Book Sale –  Saturday, June 4 from 10:30-3:30.  Get a great deal on some pre-loved books from several genres and topics. Our book sales are huge and we only have a handful of these events per year. Don't miss it!
Come and purchase some wonderful books for family and friends!  We have a great collection of Coffee Table books, Children Books and DVD's. We'll also be selling bookplates to add to the collection of our Library books.
Dog Film Festival – Dogs are taking over Los Angeles at the city's first Dog Film Festival this summer. The event will premiere at the Majestic Crest Theater in Westwood on Sunday, June 5, with a kick-off Pooch Party on Saturday, June 4!
The Dog Film Festival is the perfect event to gather with friends, family, dogs (Yes, dogs are allowed in the theater!) and other dog lovers to celebrate and honor our beloved companions.
For more information or to purchase tickets, please click here:
Dog Film Festival
Westwood Kehilla Banquet Honoring Ted Lieu –  On June 6, 2016, Westwood Kehilla synagogue, located in Westwood at 10523 Santa Monica Boulevard, is holding a dinner honoring Congressman Ted Lieu with its 2016 Community Visionary Award. Congressman Lieu represents the 33rd Congressional District, which encompasses most of Westwood and Holmby Hills.  Besides the Congressman, Consul General of Israel David Siegel, former Congressman Howard Berman, and former Los Angeles City Councilwoman Jan Perry will be participating in the program.
The dinner will be held at Sephardic Temple on Wilshire Boulevard.  A copy of the invitation and other relevant information can be accessed at the link below.
For more information, click here:
http://kehilla.org/westwood-kehilla-banquet-honoring-ted-lieu/
6.  HWPOA COMMUNICATION AND AD POLICY
Please direct all comments, questions or issues regarding the Holmby News to hwpoa@aol.com.
Ads for plumbers, housekeepers, garage sales, etc. will be posted in the weekly News. Emergency situations such as coyote sightings, lost and found pets, traffic alerts and similar situations will continue to be published during the week as received.
When placing an ad, please send to hwpoa@aol.com for the Holmby News moderator to review.  Responses to ads should be directed to the ad placer, not to HWPOA.
7.  RESIDENT ADS
NANNY NEEDED
My daughter who lives in West Hollywood is looking for a nanny for her 2 months old baby and her 2 1/2 years old little girl.
If you have recommendations, please call Giselle (310)254-4305.
——————————————————————
HOLLYWOOD BOWL TICKETS – THE LITTLE MERMAID
SELLING  6 tickets for Disney's The Little Mermaid with fireworks. We will be out-of-town.
Monday, June 6 at 8:00pm
Section N2 11
Will sell as single or by 2, 3 , 4 etc…
Face value price is $85.00 or best offer.
This event is sold out.
Call Giselle: (310)254-4305
——————————————————————
SEEKING CAR SERVICE
I am looking for an SUV/limo car service to drive from West L.A. to LAX (not Uber or Lyft).  If you have any recommendations, please call Marie at (310) 600-4726.  Thank you.
——————————————————————
SEEKING TREE TRIMMER
If you have any recommendations for a good tree trimmer, please call Marie at (310) 600-4726.  Thank you.
——————————————————————
PORCELAIN SINK REPAIR
If you have any recommendations for someone who can repair porcelain sinks, please call Marie at (310) 600-4726.  Thank you.
8.  HWPOA CONTACT INFORMATION
HOLMBY WESTWOOD PROPERTY OWNERS ASSOCIATION, INC.
P.O. Box 49180
Los Angeles, CA 90049
310-470-1785
Email: hwpoa@aol.com
Web site: www.holmbywestwoodpoa.org