HOLMBY NEWS



October 30, 2015
From the Holmby Westwood Property Owners Association, serving the Holmby Westwood community since 1960.
1.  Halloween Safety
2.  Daylight Savings
3.  Westwood Library Events and Activities
4.  Satellite Post Office Closures
5.  405 Project Cost Overrun
6.  Upcoming Community Events
7.  HWPOA Communication and Ad Policy
8.  Resident Ads
9.  HWPOA Contact Information
1.  HALLOWEEN SAFETY

In order to assist the Los Angeles community in enjoying this fun-filled holiday as safely as possible, the Los Angeles Police Department has compiled a list of Halloween safety tips for children and their parents.
In addition, HWPOA has contacted the LAPD as well as ACS and ADT security companies, and we have requested additional patrols on Halloween evening, particularly around Holmby Park and Warner Ave. School.
Have a safe and enjoyable Halloween weekend!  Happy Halloween!
2.  DAYLIGHT SAVINGS

Don't forget to set your clocks back one hour before you go to bed Saturday night, October 31st. Daylight savings ends this Sunday, November 1st! It's time to "fall back" – set your clocks back one hour and get an extra hour's sleep — at 2 am on Sunday!
It is also a good time to replace the batteries in your smoke alarms  and carbon monoxide alarms.
3.  WESTWOOD LIBRARY EVENTS AND ACTIVITIES

The Westwood Branch Library has a lot of great events and activities scheduled for the month of November including Bob Baker's Marionettes.  For a complete list of events, please CLICK HERE.
4.  SATELLITE POST OFFICE CLOSURIES

Before you head to the Post Office, please note that satellite post office locations have permanently closed at the Westside Pavillion and Westfield Century City.  The Post Office at the Federal Bldg. is still operational, as are locations on Santa Monica Blvd. (west of the 405) and in Brentwood (on Barrington).

5.  405 PROJECT COST OVERRUN

From the Transit Coalition newsletter:
If you are aware of the California high-speed rail project, you can't get away from the prophets of doom worried about cost overruns. However, where are those same folks screaming about the possible $1/2 billion overage on the 405 freeway?
Recently Metro approved a $103 million payment to Kiewit Corp. to compensate for delays and additional work pushing the total budget up to $1.3 billion. Well, the contractor still has a pending claim for an additional $400 million, which will be decided by February 2017. All this for 10 miles of car-pool lanes that increased the road capacity by 2,200 cars. Not much value for the investment!
6.  UPCOMING COMMUNITY EVENTS

Westwood Park Halloween Carnival – Saturday, October 31, 2015 from 11:00 AM to 3:00 PM at Westwood Park.  Game booths, jumpers and prizes.  For children up to age 11.
Bob Baker Marionette Theater – Saturday, November 7th, 11:00 AM at the Westwood Branch Public Library. This free children's program is sponsored by the Friends of Westwood Library in honor of the Westwood Branch Library's 10th Anniversary Celebration. Seating is limited, and is first come first served.
The Bob Baker Marionette Theater will perform their roadshow musical revue "Traveling Jamboree," featuring the extraordinary marionettes that have enchanted Los Angeles audiences for more than 50 years.  Among the delightful characters that may appear in this marionette variety show are: dancing cats, singing chickens, flapper dodos, a juggler, tap dancing frogs, and more. Children sit in a circle so the puppets can come right out in the audience and interact.
Following the show, the Bob Baker puppeteers will hold a Q&A with the children, showing off the beautiful and historic marionettes, explaining how they make their hand-crafted string puppets, and demonstrating how they operate them.  After the program, the children will enjoy complimentary refreshments, hosted by the Friends of Westwood Library.
For more information, please click here: bobbaker-marionettes
Free Paper Shredding Event – Sunday, November 8, 2015 between 10:00 am- 1:00pm at Emerson Community Charter School located at 1650 Selby Avenue, Los Angeles, CA 90024.  Gather up old documents to be shredded & destroyed on-site by SHRED CONFIDENTIAL.
For more information, click here or contact Kelly Aluise, Keller Williams Realty-Beverly Hills at or kellyaluise@gmail.com.
Exploring Your Universe – Sunday, November 8  at the UCLA Court of Sciences.  12:00 p.m. to 5:00 p.m.  Night-time activities until 8:00 p.m. The Division of Physical Sciences invites you to family-friendly day of science exploration at UCLA!
Activities include:
Hands-on Workshops
Scientific Talks
UCLA Planetarium Shows
Comet-making and Bottle Rockets
UCLA Meteorite Gallery
Weather Tours
Physics & Chemistry Demos
and much more!
Visit Astronomy Live! for a full schedule of events and directions.
Admission is free. All ages are welcome.  Parking is available for $12 in Lot 2 and Lot 8.
7.  HWPOA COMMUNICATION AND AD POLICY
Please direct all comments, questions or issues regarding the Holmby News to hwpoa@aol.com
Ads for plumbers, housekeepers, garage sales, etc. will be posted in the weekly News. Emergency situations such as coyote sightings, lost and found pets, traffic alerts and similar situations will continue to be published during the week as received.
When placing an ad, please send to hwpoa@aol.com for the Holmby News moderator to review.  Responses to ads should be directed to the ad placer, not to HWPOA.
8.  RESIDENT ADS
PART-TIME SALES POSITION
I sell costume designer jewelry and evening bags at charity events and am seeking someone to assist me on a part-time basis…have fun and earn some extra income!  Please call Marie at (310) 600-4726.
——————————————————————
SEEKING GUTTER REPAIR
I am looking for a qualified person to repair gutters.  Please call Marie at (310) 600-4726.
——————————————————————
SEEKING WINDOW AND GLASS ROOF CLEANER
We are looking for someone careful and capable to wash our windows and the glass roof of our solarium.
Marion and Matt Solomon
(310) 475-8300
(310) 804 – 4917
——————————————————————
SEEKING ROOFER
Need reliable roofer for patching work. Please contact me at dlewine@earthlink.net
——————————————————————
SEEKING GUESTHOUSE OR ROOM TO RENT
We have a friend-of-a-friend who lives down in the South Bay but works long hours as staff at UCLA and is looking to rent a guesthouse or room with a separate entrance where she can spend the night or take a break between engagements. She's is a 80's UCLA grad, tremendous Bruin sports fan and sings in her church choir. If there is anyone in Westwood who is might have a space to rent, please let me know and I'll be happy to put everyone in contact with each other.
Sara Adler
sadlerarb@gmail.com
——————————————————————
FOR SALE: VINTAGE WICKER FURNITURE
I live in the neighborhood on Warner Avenue. I have a set of four
pieces of restored vintage furniture with custom made Sunbrella
cushions and covers for sale. There is a settee for three people, a
rocking chair, and an additional chair and ottoman for sale and I'll
throw in an interesting sofa table as well.
The furniture is made to be used outside or inside. I have more pictures and hoping to sell the set for $1,200.00. The furniture is available right now and can be seen at my home. I can be reached at 310-474-4599 or my cell 310-600-3590.
Thank you in advance,
Debbie Reamer
——————————————————————
ROOMMATE SHARE ON BEVERLY GLEN AT WILSHIRE
I have a 2 bed/2 bath Garden share in a 6 unit walk-up on Beverly Glen at Wilshire. I am seeking $1350 per month including utilities and a parking spot in the garage with remote. The bedroom is unfurnished and it is a full bath. All privileges in the common areas. Beautiful, private yard, central air, heat, indoor bbq, wood-burning fireplace, washer/dryer on premises.
Dawn Handler
310-746-7209
westwoodgal@gmail.com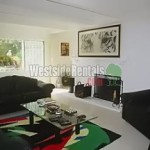 9.  HWPOA CONTACT INFORMATION
HOLMBY WESTWOOD PROPERTY OWNERS ASSOCIATION, INC.
914 Westwood Blvd. Suite 573
Los Angeles, CA 90024
310-470-1785
Email: hwpoa@aol.com
Web site: www.holmbywestwoodpoa.org