HOLMBY NEWS



September 25, 2015
From the Holmby Westwood Property Owners Association, serving the Holmby Westwood community since 1960.
1.  Short Term Rentals – Survey & Meeting
2.  Drought-Tolerant Parkway Landscaping
3.  LAPD Community Alert
4.  Upcoming Community Events
5.  HWPOA Communication and Ad Policy
6.  Resident Ads
7.  HWPOA Contact Information
1.  SHORT TERM RENTALS – SURVEY & MEETING

The Department of City Planning would like to invite you to an upcoming community listening session they are holding on the issue of short-term rentals, sometimes known as home sharing or vacation rentals (such as AirBNB). Short term rental is generally defined as a residence or room that is rented to a visitor or guest for less than 30 days.
The meeting will be an opportunity to learn about the issue and provide input that will help shape the City's regulations regarding short terms rentals.
Also, to help them better understand the various ideas and concerns about short term rentals, they have prepared a short questionnaire. Copies will be available at the listening sessions as well.
Questionnaire:
http://goo.gl/forms/Mm0DSx7r5v
Meeting:
Tuesday, September 29, 2015 (6:30pm – 8:30pm)
Mar Vista Park Auditorium
11430 Woodbine St.
Los Angeles CA, 90066
2.  DROUGHT-TOLERANT PARKWAY LANDSCAPING

In an effort to save water during the drought, HWPOA formed a committee recently to research alternative landscaping options for neighborhood parkways (the strip of grass/plants between the sidewalk and the street).  The committee has completed their research, and their recommendations can be found here:
Please note, it is still important to water the trees on your parkway.  Trees still need water, even in the drought, and can die or become unsafe if not cared for properly.  A tree on Beverly Glen recently fell over as a result of not being properly watered.
Text
3.  LAPD COMMUNITY ALERT

Our LAPD Senior Lead Officer Chris Ragsdale has asked us to circulate this request for help in the LAPD's investigation of a fire on Roebling in the North Village on Monday, in which a 4th-year UCLA student died.
Community Alert Notification:
https://ucla.app.box.com/crime-alert20150921
4.  UPCOMING COMMUNITY EVENTS

Westwood LA – Documentary Screening – Sunday, Sept. 27 at 7:00 PM,  at Vintage Westwood Horizons (947 Tiverton Ave.).  RSVP 310-341-4364.  Come see a film about one of Los Angeles' great Westside neighborhoods.  For more information, please click here: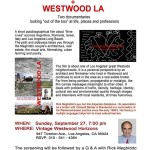 Westwood Village Fine Art Festival – October 10-11.  New Location:  Broxton Ave between Weyburn Ave and Kinross Ave, in Westwood Village.
This outdoor festival will feature accomplished artists from throughout the Western United States presenting their original work in all mediums of two and three dimensional fine art, including paintings in acrylic, oils and watercolors, photography, etchings, sculpture in clay, glass, metal, stone and wood. Each artist will be present to meet with the public and discuss their work. All work is available for purchase.  Admission is free!
The Westwood Village Fine Art Festival is presented by West Coast Artists. For more info, visit www.westcoastartists.com.
Concert Series @ Westwood Library – Sunday, October 11 at 2:30 PM.  This is the third concert in the 2015 Season of the popular Concert Series @ Westwood Library. The Library's Quartet in Residence, the Fiato String Quartet, will be joined by guest clarinetist Donald Foster to present a special concert of three wonderful pieces:
Brahms – Clarinet Quintet, Op. 115
Schubert – Quartettsatz, D. 703
Stravinsky – Three Pieces for Clarinet Alone
COST: FREE! Open to the public.
After the concert, meet the musicians and enjoy a complimentary reception hosted by Bristol Farms and Friends of Westwood Library.
Download the concert flyer here.
5.  HWPOA COMMUNICATION AND AD POLICY
Please direct all comments, questions or issues regarding the Holmby News to hwpoa@aol.com
Ads for plumbers, housekeepers, garage sales, etc. will be posted in the weekly News. Emergency situations such as coyote sightings, lost and found pets, traffic alerts and similar situations will continue to be published during the week as received.
When placing an ad, please send to hwpoa@aol.com for the Holmby News moderator to review.  Responses to ads should be directed to the ad placer, not to HWPOA.
6.  RESIDENT ADS
HOUSEKEEPER AVAILABLE
Our housekeeper of 20+ years has one day per week available for a lucky Holmby Westwood resident. Irene is totally trustworthy, extremely hard working, devoted to her clients, a US citizen, drives, is terrific with children and pets, sees what needs to be done and does it cheerfully. Please call Susan Reuben at 310-271-6700.
——————————————————————
PRIVATE TENNIS COACH
Looking for individual or group tennis lessons on your private court?
Please contact PAULO HEXSEL, LA Westside Top Tennis Professional
– USPTA Elite Professional
– ATP, WTA and ITF Circuit Coach
– Convenience of having your coach come to your own private court
For price inquiries, please call/txt (305)343-2995 or email pjhexsel@hotmail.com
7.  HWPOA CONTACT INFORMATION
HOLMBY WESTWOOD PROPERTY OWNERS ASSOCIATION, INC.
914 Westwood Blvd. Suite 573
Los Angeles, CA 90024
310-470-1785
Email: hwpoa@aol.com
Web site: www.holmbywestwoodpoa.org