HOLMBY NEWS



April 24, 2015
From the Holmby Westwood Property Owners Association, serving the Holmby Westwood community since 1960.
1.  Street Closures TODAY – March for Justice
2.  HWPOA Annual Meeting  – May 12
3.  USPS Problems – Update
4.  Upcoming Community Events
5.  Delphi Greek Restaurant
6.  HWPOA Contact Information
1.  STREET CLOSURES TODAY – MARCH FOR JUSTICE

Today, April 24th, the Historic Armenian Genocide Centennial March for Justice will take place starting at 10 A.M.
The March will begin at the corner of Western Avenue and Sunset Boulevard in Little Armenia, and will conclude with a protest at the Turkish Consulate at 6300 Wilshire Boulevard, Los Angeles, CA 90048.
All areas along the route will be closed starting at 9:30 AM, with only limited traffic allowed to pass through the following intersections:
Wilton Pl/Sunset Blvd
Gower St/Sunset Blvd
Cahuenga Blvd/Sunset Blvd
Highland Ave/Sunset Blvd
Santa Monica Blvd/La Brea Ave
Melrose Ave/La Brea Ave
Beverly Blvd/La Brea Ave
3rd St/La Brea Ave
6th St/La Brea Ave
Hauser Blvd/Wilshire Blvd
Fairfax Ave/Wilshire Blvd
Streets will reopen on a rolling basis as marchers pass through.
2.  HWPOA ANNUAL MEETING – MAY 12

SAVE THE DATE
HOLMBY WESTWOOD
PROPERTY OWNERS ASSOCIATION
ANNUAL MEETING
WHEN:
Tuesday, May 12, 2015
7:15 PM – Meet and Greet
7:30 PM – Meeting will begin
WHERE:
Belmont Village
Town Hall
10475 Wilshire Blvd.
(at Warner Ave.)
Free parking available
In addition to our regular business, we will be discussing the Historic Preservation Overlay Zone (HPOZ) and the Interim Control Ordinance (ICO).
We will also be electing our 2015-16 HWPOA Board of Directors.
We look forward to seeing our neighbors and friends at the meeting!
3.  USPS PROBLEMS – UPDATE

Dear Westwood residents with USPS concerns,
Congressman Ted Lieu takes your USPS concerns very seriously. On his behalf I had a very productive meeting today with USPS authorities. I conveyed your compliments and your complaints.
USPS in your area has been given permission to hire additional workers. It will take a little time to find the right people and train them, and get them to be as good as some of our favorite long time carriers.
Also they have several new systems in the works that should help delivery. Again, these are just going into place and it will take a little time for them to be up and running smoothly.
They are also making an effort to address the stolen mail problem and problems with customer service at the post offices themselves.
Their communications director is going to write a release about some of these changes so that this information is conveyed to you accurately.
Although I will be out of town on vacation from April 18 until May 4th I will occasionally check my e mail and will forward this to you when it comes in.
I also wanted you to know that it was agreed that I would have regular meetings with USPS every 4 to 6 weeks.
So I'll need you to keep a watchful eye. I will check in with you in a month to see if the situation has improved or gotten worse.
Best,
Janet
Janet Turner
Field Representative & Constituent Services
Congressman Ted W. Lieu, CA 33
323-651-1040 office
310-496-9896 cell
4.  UPCOMING COMMUNITY EVENTS

UCLA Jazz Reggae Fest – Saturday, April 25 at UCLA's Los Angeles Tennis Center. We will begin the show under the warm rays of the California sun and keep on groovin' as the moon rises. The vibes will continue, the sounds will change.   Come join us at JRF 2015 – bound to be just really funky. For more information, please click here.
Emerson/UCLA "A-Capella Jam" – May 2 at 7:00 PM (dinner available for purchase at 5pm).  UCLA's Top A-Capella singing groups will perform at Emerson Community Charter School (1650 Selby Ave.) in a concert to benefit arts education at our neighborhood public middle school. If you (or your kids) loved the movie "Pitch Perfect," you'll love this concert. It's fun for the whole family!  Advance Discount Tickets available online NOW:
A-Capella Jam
Quartet in Residence @ Westwood Library – Sunday, May 3 at 2:30 PM.  Join us as we kick off the 2015 Season of our popular Concert Series @ Westwood Library, featuring the library's Quartet in Residence, the Fiato String Quartet. Once again, we'll be upstairs in the library itself on a Sunday afternoon when the library is not otherwise open for regular business.
Click here for Event Flyer
Click here for a peek at one of last years concerts
First Star Celebration for Children's Rights – Sunday May 3 at 4:00 PM.  Located at the Skirball Cultural Center.  We will be honoring our students, and their heroes and heroines who have bolstered foster youth in countless ways.  Carnival games and activities for all ages, catering by LA's finest, magical entertainment, special guests, awards ceremony and fun for the whole family!  BUY TICKETS
Senior Fraud Awareness Day – Thursday, May 14 at 10:00 AM at Felicia Mahood Senior Multipurpose Center.  Guest speakers from AARP, Federal Trade Commission, W.L.A. Div. Police Dept., -L.A. Department of Consumer and Business Affairs, L.A. City Attorney, L.A. County District Attorney and more… Click here for more information.
"Bruin Walk" in Westwood – May 16th at 10 a.m., beginning at 1154 Westwood Boulevard. This walk is sponsored by and raises funds for Los Angeles Walks, a group that seeks to improve conditions for people who walk in the City of Los Angeles. The 3.5 mile walk will highlight the history of Westwood and pedestrian perspectives on the neighborhood.
5.  DELPHI GREEK RESTAURANT

HWPOA would like to support local businesses.  Delphi Greek
(located at 1383 Westwood Blvd.) is offering 15% off and free delivery: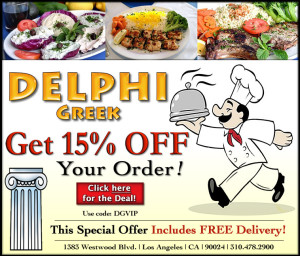 6.  HWPOA CONTACT INFORMATION
HOLMBY WESTWOOD PROPERTY OWNERS ASSOCIATION, INC.
914 Westwood Blvd. Suite 573
Los Angeles, CA 90024
310-470-1785
Email: hwpoa@aol.com
Web site: www.holmbywestwoodpoa.org